I learned something new today: in Ancient Greece, they used the amethyst stone to ward off drunkenness. It's also the name of a new movement to change the legal drinking age from 21 to 18 in the United States.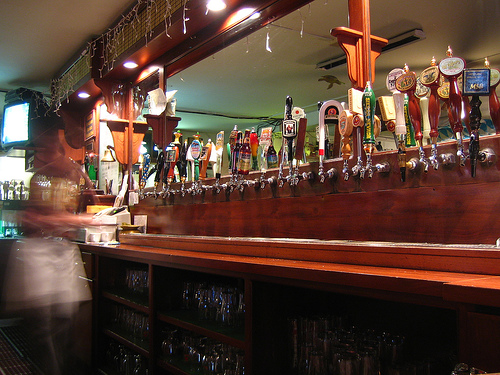 Photo by rick.
It's been a past-time for some teenagers to make the trip across the border into Canada (my home land, for the record) to buy beer, where the legal drinking age is 19. I had my first taste of alcohol before I was legal age, maybe 17 or 18- and, by "normal" standards, I was a late bloomer. The Amethyst Initiative is a movement to change the legal drinking age in the US from 21 to 18. From a Canadian's perspective, this is probably not the best idea. Let me explain why.
Picture this: a 16-year-old, just starting high school, begs (and bribes) her 21-year-old sister to buy her liquor for an upcoming party. She drinks and returns to school on Monday, bragging about her first experience with getting drunk.
Now, picture this: a 13-year-old, just starting junior high, gets her 18-year-old sister (who is still in high school) to buy liquor for her and her friends. They over-indulge and get in some serious trouble.
It's all a matter of maturity: there is a huge difference between 13 and 16. Seriously, when you're thirteen, Hannah Montana is still cool. By the time you're sixteen, you've probably experienced a lot more, learned from some mistakes and even gained a little wisdom. (And I mean, a little.) When you're thirteen, you have just started experiencing life, making mistakes and realizing that your female unmentionables are getting bigger.
Plus, just think about it: people think high school parties are wild now?! Consider how wild (and dangerous) they could get if high school students could buy as much liquor as they wanted- and without the help of an older sibling or strangely forgiving parent. Sometimes, very bad things happen when teenagers get together and drink heavily: car accidents (some more fatal than others), property damages, violence, sexual assault and alcohol-related deaths. The more liquor available, the higher the chances of these things happening.
The main reason for wanting to change the legal drinking age to 18 was to limit the amount of binge drinking on college campuses. Whatever the legal age for drinking, there will always be those who drink way too much. It's a part of college. Adrenaline (caused by being away from parents for the first time) can make even the smartest people do really stupid things. This includes (but is not limited to) drinking beer from a bong and crashing your car into a telephone pole.
Am I saying that the legal drinking age in the US should be kept at 21? Probably not. Compared to the Canadian legal age, it seems almost silly. (Like any drinking age laws keep college students from drinking. That's hilarious.) Changing the legal age to 18 seems like making up for lost time, not trying to save the lives of college students who over-indulge and end up with alcohol poisoning- or worse.
What I'm saying is this: change the legal age to 19, like we Canucks have done. Yes, liquor is still (and will always be) within sight of high school students. It will be accessible to most college students and, hopefully, away from most 13-year-olds (and their Jonas Brothers t-shirts).