In 2006, a worker with an associate degree earned about 33% more than one with just a high school diploma, and about 48% of jobs on demand were the "middle-skill" jobs that associate degrees cater to. If you want to further your education beyond a high school degree but you can't or don't want to pursue a traditional four-year degree right now, this may be the perfect time to think about getting an associate degree.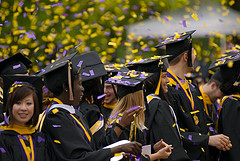 Photo by m00by
An associate degree is a two-year degree, offered at community colleges, technical colleges, and junior colleges. While it's possible to get an associate degree in something broad like science, associate degrees are most often associated with a vocational specialty, such as accounting, paralegal, nursing, computer programming, etc.
Because they take less time to complete, obtaining an associate degree is more affordable than getting a bachelor's, and it still has a major employment advantage over a high school diploma or GED.  Some people also choose the associate track to jump right into their field without having to take as many general education classes.
Associate degrees are also a valuable stepping stone. If you're still aiming to go to a four-year school, an associate degree can prepare you for a higher-paying job until you can afford a bachelor's degree. Or, an associate degree can give you the foundational coursework to transfer to a four-year school at a lower price. Many programs are made specifically for this purpose, even in complex fields like engineering and biotechnology. If you're not interested in a bachelor's but do want to advance in your field, the associate degree puts you at an advantage in employers' eyes because it allows you to study the subject in-depth first instead of learning as you go.
Associate degrees may get a bad rap, but they can take you to interesting careers from graphic design to film and video technology to criminal justice. "Middle-skill" jobs make up almost half of the national employment share; there's actually a higher need for workers doing associate degree level work than bachelor's degree level work. "Even in the midst of massive layoffs, employers cannot find enough skilled workers," said Ellen Alberding, president of the Joyce Foundation, in an article on Inside HigherEd.
Associate degrees may not get talked about much, but they can fill a huge gap in the job market and can take you to higher opportunities. In this economy, an associate degree may be just the thing you need to balance college affordability and an employment edge.
And of course….if you'd like to find an associate degree that's right for you, check out myUsearch.com to find your college match.