Every year, at countless high school graduation ceremonies, you hear or read the names of scholarships the graduating class has been awarded.  It's important to keep in mind that behind each of those awards are a student commitment, a well done application, and the ever-important scholarship search.  The latter is where many students find themselves in uncharted waters.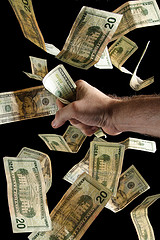 Photo by Steve Wampler
 Applying to college and figuring out how to pay for it requires a new vocabulary, as well as the acquisition of some new skills.  Searching for scholarships is no different.  All it takes is a little time,  patience, and figuring out where to start.  While I can't force you to make time to do a scholarship search or make you a more patient person, I can definitely help you figure out where to begin.    Here are a few tips to help you get started with your scholarship search:
1. Spend time in the counseling office and get to know your guidance counselor.  Most local scholarships are sent directly to school counseling offices which, in turn, make them available to students.  Find out how your school advertises these scholarships and be sure to check for new scholarships every week. Also, make sure your counselor knows who you are and what you are interested in.  A student who has made the effort to connect with them and shown sincere interest and follow through in applying for scholarships tends to stand out.
2. Get signed up with a scholarship database like Fastweb (www.fastweb.com) or FinAid (www.finaid.com).  These kinds of sites have you complete a personal profile which they use to identify scholarships you may be qualified for.  Just a hint: the scholarship matches you get from these sites are only as good as the info you include in your profile, so be sure to be thorough and keep it up to date.  If you'd like to know what merit scholarships are available at a particular college, you can check out www.meritaid.com.
3.  Identify your own possible sources for scholarships.  You may have resources you haven't even considered, so your scholarship search should begin at home.  Many employers and unions offer scholarships to the children of employees and union members.  Civic organizations such as the Rotary Club, Soroptomists and chambers of commerce may also make them available to members.  Ask your parents to investigate this for you.  If you're a scout, a member of a church, or an employee, find out if there are any scholarships you can apply for through them.
4. Check out scholarship books at your local library or bookstore.  Spend some time perusing the pages for scholarships you are qualified for then follow through with a visit to their website or a request for more information.
5. Don't be fooled by scholarship scams. I guess this is more of "Where not to start your scholarship search", but it needs to be mentioned here because these scams are rampant.  People who promise you guaranteed scholarships or inside information to get those scholarships are only after one thing - your money.  You just need to remember one thing: all scholarship information is FREE.  You should never have to pay for it.
If you use these suggestions to start your scholarship search, you will be well on your way to finding resources to help you pay for college, but the rest is up to you.  The students who are the most successful in getting scholarships are those who are truly dedicated to the task.  That means they fill out lots of applications and don't reject any scholarships because they're not big enough.  These students understand that when it come to paying for college there's no such thing as "too much work" or "too little money".
If you'd like to read more tips about college related topics, I encourage you to check out my blog.