For high school students all across the States, studying for and taking the SAT (Scholastic Aptitude Test) and/or ACT (American College Test) has been a dreaded past time. However, students who perform poorly on the SAT tend to do better on the ACT because of the different skill set used.
So, what are the main differences between these college entrance exams?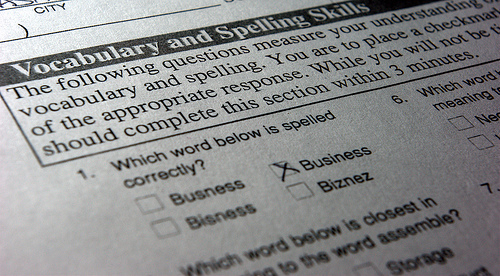 Photo by cheese roc.
The SAT has 10 sections and focuses on Critical Reading, Math and Writing while the ACT is comprised of 4-5 sections focusing on English, Math, Reading, Science and Writing.
The SAT doesn't include a section for Science while the ACT does.
Math makes up a larger portion of the SAT than the ACT.
The first thing you do on the SAT is an essay, while the essay is the last thing you do on the ACT.
There is no penalty for wrong answers on the ACT while a quarter of a point is taken off for every incorrect answer on the SAT.
The SAT is more about problem solving while the ACT includes more of what the student learned (or should have learned) in class.
The ACT is more popular in western and southern states while the SAT is more commonly used on the West and East Coasts.
According to this website, students who do better on the SAT enjoy riddles, have a good eye for detail and are "street smart". Students who do better on the ACT tend to be good writers, enjoy science and economics and are "book smart".
So. Which one to take?
According to this article in the New York Times, college admissions departments don't have a preference between the tests. They suggest you ask yourself some important questions before choosing between the two tests:
Which format feels right? The experts recommend that if you have the means to do both and your school offers both, attempt both. You can practice each exam online for free at Ivybound.net.
How long can you sit without fidgeting? The SAT lasts three hours, 45 minutes while the ACT lasts two hours, 55 minutes.
Are you an overachiever or an underachiever? If you tend to be an intelligent underachiever, you might do better on the SAT. Students who spend more time studying for those good grades tend to do better on the ACT.
Guy or girl? Generally, guys do better on the SAT while girls do better on the ACT. (Keep in mind, this is just a generalization. Don't rush out and take the SAT just 'cause you have a Y chromosome.)
For more information on the SAT, visit CollegeBoard.com. For more information on the ACT, visit ACT.org.
Which college entrance exam did you take? Which test are you considering taking in the future? We'd love to hear your comments!
Thanks for visiting. If you're new here, you may want to subscribe to our RSS feed.