Greetings readers! It has been a scary amount of time since I last wrote. The shocking thing is our individual perception of time in relation to certain events or activities. For example, it seems very long ago that I wrote my last article. Yet, the oil spill seems so fresh and recent. As a Gulf Coast resident, I have been deeply affected and have felt a strong desire to help. I know that there have been lots of people from all over who have rushed- or wanted to rush toward- the Gulf coast in order to volunteer in some form. But what can you really do to help?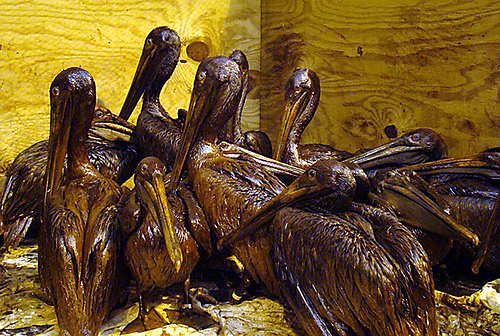 Photo by Mindful Walker

The concept of volunteering has become a bit tainted because not only are the cities, states, government and BP turning away most untrained volunteers, but the plume that is floating invisibly over the Gulf (think of a chemical cloud) is already accounting for respiratory damage in many who have been involving themselves in Gulf Coast areas. So, while I don't have an answer to respiratory problems or to the actual spill itself, I do have some information that might be helpful for those who are unyielding in their desire to help in some way: http://www.oshacampusonline.com/keysspill-24-hour-hazmat.html
This website offers hazardous materials training courses for people who want to assist with this disaster and others that will, inevitably arise in the future. As well, one of the best websites that was shown to me by our myUsearch guru, Elizabeth Kraus, to get me on a more positive note about this whole aid potential (I live in Florida). The article is about the little things that we can each do to see to it that food, shelter and cash goes to the right places and the people who need it: http://www.examiner.com/x-25134-Atlanta-Healthy-Trends-Examiner~y2010m6d7-gulf-help. This article appeals much more to the type of indirect giving that our country is so good with. Log on. Buy soap. Buy a t-shirt. Donate canned goods. We thrive with this type of generosity, so let us harness it!
The world is never short on oil-related tragedies. The whole idea of the Gulf Coast debacle has brought to light some very intriguing dilemmas that our society must now realize and confront. Most importantly, in my opinion, is this concept of how far we are willing to go to destroy natural resources which, in almost every conceivable instance, we will end up paying a much greater amount in both dollars and our way of life, in order to restore them. The oceans and Everglades are just the beginning. To sustain the way that we currently live, significant risk is involved. We are using humans and nature as collateral. But perhaps we should not want to sustain this lifestyle. Maybe altering our lifestyle by becoming more knowledgeable about our own actions is precisely what is necessary in order to prevent such tragedies in the future.
I think that the moral of this lesson is that we need smarter people (higher education!). We need engineers who can stop this leak and, more importantly, leaders and executives who have a desire to prevent the leak from occurring in the first place. I'm not saying education necessarily makes one more ethical. But this IS a goal of a liberal arts curriculum; Is it not? Go on to college and help us plug holes that are leaked from everyday, all around the globe. If you have the time and money to do something good this summer, find a small, gulf coast town that relies on tourism and spend your summer vacation exploring the area. You don't have to go to the beach. You don't have to eat seafood. Make the best of it and just go to support people and tell them how beautiful their town/city is and bring some cheer and positive inspiration to some folks who are in desperate need of this very human resource.