Today we have a guest post from Brennon Garrett, from Campus Book Rentals. Campus Book Rentals, a college text book rental company, is conducting an online petition for this bill. 
The United States Congress is currently considering whether to pass the The Student Aid and Fiscal Responsibility Act of 2009 (SAFRA).  The legislation passed in the Senate last September by a vote of 253 to 171, but it's unclear whether it will pass successfully in the House.  The legislation includes many different initiatives, but the primary purpose of the bill is to make college more affordable to more Americans.  One of central components of the bill would remove private banks as middle-men in the student lending process.  As it stands today, many student loans are made by private banks with subsidies from the US Government - while those same loans are also being guaranteed by the US Government, thus removing the loan default risk to the private banks, and passing on the extra cost to students.  In April President Obama said "We have a student loan system where we're giving lenders billions of dollars in wasteful subsidies that could be used to make college more affordable for all Americans."  SAFRA would put an end to government payments to commercial lenders, and and the government would become a direct student lender.  This would save $40B over 10 years that would be directly re-routed into the Pell Grant system, increasing Pell grant scholarships from $5,550 in 2010 to $6,900 by 2019.  The increase in Pell grants would become linked to the cost of living, rising along with the Consumer Price Index, plus 1%.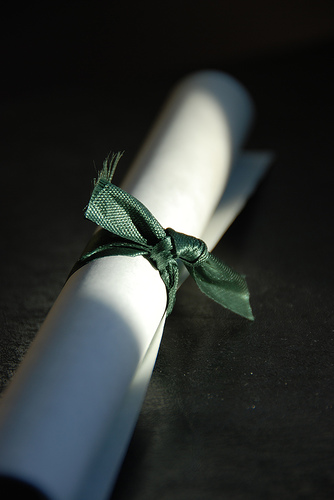 Photo by Gadget Dude

It bill would also expand the Perkins Loan program to include more colleges, and includes $10 billion investment into community colleges, the largest investment ever made into the community college system. It will provide around $8 billion for early-childhood programs,  and will require the Free Application for Federal Student Aid, or Fafsa, to be simplified.   
Arguments against the bill are closely aligned to arguments against healthcare reform.  The most vocal opponents claim that this bill is a takeover of the private student lending sector by the government, and that it will stamp out private market competition.  Proponents of the bill claim the opposite, saying the profit driven private sector is to blame for the increased cost of student lending in the first place.  Here is a rough breakdown of the pros and cons:
Pros:
-Bill keeps interest rates low, and need based.  Currently interest rates are set to jump from 3.4 percent to 6.8 percent in 2012.
-Invest $40 billion to increase the maximum annual Pell Grant Scholarship.
-Strengthen the Perkins Loan program by expanding it to significantly more college campuses.
-Simplify the FAFSA form.
Cons:
-Removal of private banks from student lending process.
-Unclear long-term effects of lending costs with Government program.
-Significant job losses likely to occur in private student lending sector.
You can see the full bill, the petition, and a comprehensive list of key bullet points here: http://www.campusbookrentals.com/collegebill.html