More and more college campuses are taking steps to become more green. Not only are colleges looking for ways to save energy and reduce costs, but many colleges also recognize that their environmental practices can have a big impact on a student's college decision. These trends have encouraged many colleges to change their ways, but now a little friendly competition will give campuses another nudge. The America's Greenest Campus contest has recently announced that they will offer prizes totaling $20,000 to encourage college campuses to become more earth-friendly. The website is keeping track of which colleges got more people involved in the contest and which college reduced the most carbon emissions per participant.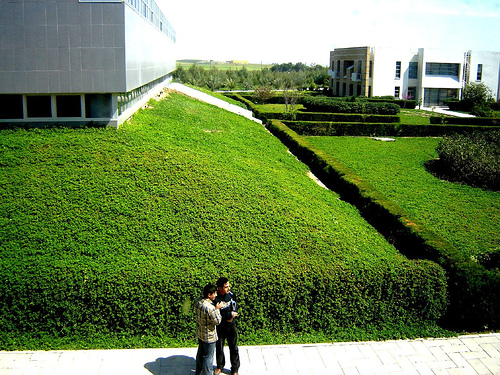 Photo by duygu.

America's Greenest Campus is a nationwide contest that enables colleges and universities to compete against each other in reducing their carbon footprints. The contest has support from the US Department of Energy and is designed to energize and engage our nation's youth to combat global warming.
The winning schools of the America's Greenest Campus contest will receive some great prizes:
$5,000 to the school with the most participants (students, alumni, faculty, staff)
$5,000 to the school with the largest percentage of carbon emissions reduced
$10,000 to the winner of the SmartPower Energy Smart Ad Challenge
So far, over 6000 students from 400 colleges have signed up for the contest. As I write this post, George Mason University (Fairfax County, Virginia) is in the lead with 982 students involved and carbon emissions decrease of 2.69%. So far, college students have committed to reducing their annual carbon emissions by 4 million pounds, reducing 1.5 million gallons of water usage each day and avoiding using over 25,000 gallons of gasoline.
Heck, even rap mogul Russell Simmons, actor Ed Begley Jr., Internet celeb Obama Girl, football player Dhani Jones and CollegeHumor's Jake Hurwitz got involved!
The two winners will be announced in October 2009. More info can be found at the contest website, their Facebook page, their MySpace and on their Twitter page……but most importantly, what do you think?
Is it important for colleges to become more green? Will this contest encourage them to do so? When choosing a college, would the college's environmental practices affect your decision? Speak out! 
…….and if you're interested in pursuing a green career or just want to get more involved, be sure to check out Connect2Earth, a new green online community for young people. It's a great way for you to learn more about the movement and find out how you can plug in.