Even though Kraft Dinner might make up a large part of your diet, it sadly doesn't translate so well into a good holiday gift. Since most college students are pinching pennies anyway, the holidays can be a pricey time of year. Plus, with final exams happening around this time of year, finding the time to do your holiday shopping can be difficult.
So, what is a college student to do? Here are some helpful suggestions and tips for easy and cheap holiday gifts.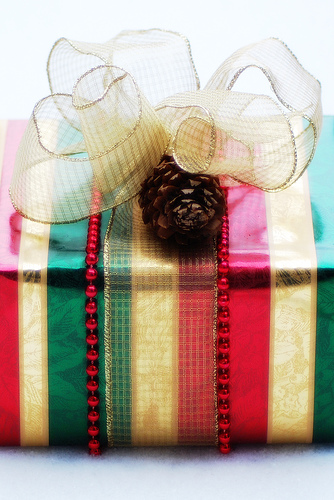 Photo by mysza831.
Gift cards, certificates and movie tickets. Holiday gifts don't come much easier than that- and they always make people happy because it's like free money in the form of a gift that looks like a credit card. What I like about gift cards is that they force the person receiving the card to buy something fun instead of spending it on necessities.
Dollar store gift basket. Buy a basket at a dollar store and fill it with inexpensive items: candy, bath salts, potpourri, etc. Just make sure to watch the tally as you shop.
Agree on a limit. For exchanging with friends, suggest a limit to how much each person can spend. They're probably just as broke as you are.
Re-gift. Yes, I know. It's tacky, nobody likes doing it but it's an easy way to save some money. I got a bath robe last year for Christmas but never wore it. So, I gave it to a friend for a birthday present a month later. (Ssh! Don't tell her!) Warning: if you plan to re-gift, make sure you're not giving the gift to the person who gave it to you. Also, make sure both people are not in the same circle of friends and don't live close to one another.
One of my favorite blogs, Surviving College Life, has several holiday gift articles that has some great ideas for holiday shopping. Make sure to check out: Holiday Gift-Giving on a College Budget, For The Ladies On Your List!, Gifts For Guys, Gifts For Kids and Gifts For Teens and Twenty-Somethings.
Any other ideas? Add them to my list! Happy Shopping!
Thanks for visiting. If you're new here, you may want to subscribe to our RSS feed.