College. That one word alone is the definition of being broke! As a college senior, I can tell you that no matter how many part-time jobs you take on, you are still going to be lacking when it comes to cash flow. It takes some longer than others to run out of their high school savings, but you'll be sure to find out the true value of a dollar during your time away. So how can you make the last $5 you have for the week (and it's only Monday) last until Friday's pay check? I've learned some simple tips on how to find college deals and making that dollar go further.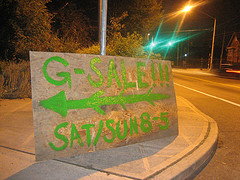 Photo by Goldberg
 
How to find… cheap college textbooks!
One of the most expensive college buys is your text books! Without a doubt, you will be dropping a pretty penny to purchase those books you may never read. How do I find the best book buys? I use Amazon. The last book I bought cost one cent. Yes, one entire penny… of course there is a shipping and handling fee but I don't think I've ever purchased anything for just one cent. It's a great place to go and compare prices of what you might have been spending in your book store. Take a peruse around Textbooks.com as well.
How to find… cheap college essentials!
When you're moving into a dorm room or a new apartment, often times there is very little furniture, if any at all! You can immediately scratch out Ikea or Bed, Bath and Beyond… we all know we don't have the money for that! Besides, you're only using it for a few years, why waste all that money? Check out summer garage sales before you head to school. They are a great place to find small things like end tables or a book case. If you're looking for something more specific, try Craigslist or Ebay. If you don't have a clue what you want, check out some local thrift stores or goodwill locations… what you find there may not be essential, but it will definitely look cool!
How to find… cheap college bargains!
How great was the feeling of back to school shopping when your parents let you go on a complete shopping spree! You had to have the latest trends! Well, now reality hits and you're supposed to be this "mature, independent individual" but does that includes buying your own luxuries?! First off, ditch the labels. You'll be lucky if you make it to class in something other than your PJs. My favorite online secret is Retailmenot.com. I use it anytime I'm making an online purchase. When I'm hitting up the mall, I make sure to print out my coupons and take advantage of the sales. If it's not on sale- it will be, that's my motto!
How to find… cheap ways to stay fit in college!
Forget your gym membership! Try out the *FREE* gym that most colleges and universities provide. Still a fee? Take a run around town or play some basketball with a buddy. You don't need fancy trainers or high tech equipment to keep up your physique.
It's all about trial and error. You'll find out soon enough that your morning coffee and bagel add up to a pricey amount at the end of each month. You might have to skip out on going to dinner with your friends, but invite them over to a taco night… purchasing your own food is so much less expensive than going out! If you're not going to die without making a purchase, then you probably shouldn't be making it in the first place. College is about finding out how you can survive on the absolute bear minimum… it's actually quite a fun challenge!