Today we have a guest post from Melissa Joy Kong, Editor-in-Chief, Studentbranding.com
Getting into your dream college is more challenging than ever. Competition is fierce, and you will be in a selection pool with many other qualified high school students for the same spot at your ideal school.
So how do you stand out amongst all of the other college applicants?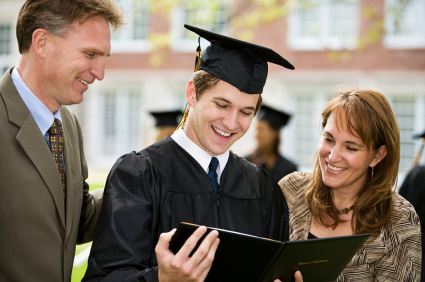 Be Creative. Most college students are involved in at least one extracurricular activity, like a varsity sport, or an academic team. While it's great to be involved in organized school activities, nothing beats starting your own group, project, or campaign.
If you are interested in acting, start an improv comedy troupe. Or if you really enjoy singing, start your own glee club or a capella team. Maybe you play football and want to give back to the community. Combine your efforts- start a mentoring program and have each player on your team be "buddies" with a young student. 
Be creative, and find ways to build upon the organizations you are already part of- or just start a club or initiative on your own!
Be a Leader. For the organized school clubs and teams that you are involved in, take on a leadership role. For instance, ask to take the role of communications captain for your basketball team- you'd become the point person for making sure everyone is well informed and 100% motivated to play each game at their best. Or, if you are on a debate team and you travel for conferences, volunteer to be the travel coordinator. That position is an opportunity to prove that you can effectively coordinate a large trip and manage important projects.
If you are part of an organization where there are only a few official leadership positions, like "Team Captain," don't hesitate to think of ways to create new positions and leadership opportunities. Mentioning your initiative to create a leadership position in order to address an unmet need within your group will definitely help you stand out on a college application.
Be Informed. Do your research on the college, and know exactly why you want to go there. Why you think the college would be the perfect fit for you? Don't apply to a college solely for the name, convenience, or because your parents told you to. 
Once you know exactly why you want to attend your dream college, be sure you convey that throughout your application. Passion goes a long way! Remember that the job of an admission's committee is to read through your application and make sure that you are a good fit for the college. If you can make a direct case for why you think the school would be a great fit for you, the admissions committee is more likely to picture how well you would fit in there, too.
Be Honest. One of the biggest mistakes you could make in the college application process is trying to be someone you are not. Be honest about your interests, accomplishments, shortfalls, and dreams. As you can imagine, after looking at thousands of applications, the average admissions committee gets really good at spotting the differences between authentic and inauthentic applications.
Address anything that you think is a shortcoming on your application – like a bad grade in one class or a low SAT score. Then, focus on the positive – the organizations you were involved with, the awards you won, and the leadership roles you took on. Anticipate the questions or concerns you think an admissions committee might have, and be sure to address them in your application.
Be Optimistic! Last, but definitely not least, be optimistic! I often hear high school students say things like: "I have no shot of getting into my dream school," "My SAT score isn't good enough," or "They would never take me because I did not do so well in a few of my classes."
Most college applications aren't perfect. You are human, so you are bound to make mistakes along the way. What really gets noticed in most college applications isn't the number of activities you are involved in or how perfect your GPA was. Rather, it is your passion, leadership, intellectual curiosity, and desire to make a difference.
Highlight what you have to contribute, and how you hope to learn and grow at your dream school. And believe in yourself! Because if you don't, who will? Good luck!
For more information on how to get into a great college- and succeed once you are there- visit studentbranding.com.
Thanks for visiting. If you're new here, you may want to subscribe to our RSS feed.