I'm surprised I even remember applying to college. I figured after a year, I would've repressed the mornings eaten by hours of tests, afternoons spent stressing over what to wear to an interview, and late nights editing my personal essay. But the truth is, I did learn a few things from the college admissions process itself, and hopefully what I've learned will keep you from a few of your own unnecessary freak-outs.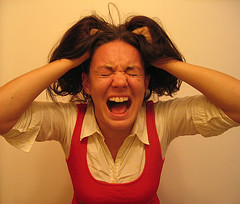 photo by BrittneyBush
Start as early as possible. October may seem like it's a long way from January and senior year far from junior year, but regional interviews and information sessions, fall preview days, and scholarship competitions are happening now. And so are homecoming, Thanksgiving, exams, holidays, your great aunt's surprise visit (whoops)… Trust me, you do not want to spend your breaks at your computer. For those of you who do have your college applications ready, get ahead on the decision-making process. Continue to research schools (and complete the myUsearch college matching service) when you have time so you won't be spending the end of the year (when you'll have just as much stress and far less motivation) visiting campuses and comparing colleges.
Keep in touch with the college. Make sure you take as many opportunities as you can to get information from the admissions office, especially if it involves meeting someone in person. Not only will this help your decision-making process, but you'll get more info on special programs, scholarships and other ways to make your college experience personal. Plus, it might help if the person reading your application has a face to put to the name.
Ask for a lot of help. I wish my college application essay had been reviewed by a few more pairs of eyes. Your teachers, friends, parents, counselors, and neighbors down the street all have valuable perspectives and the college application process is even tougher if you go it alone.
Practice makes perfect. Make sure your essay goes through at least a few drafts and ask your school counselor or parents to help you out with a mock interview.
Commit to good time management. This skill will certainly carry over into college and beyond. Get used to putting deadlines on a calendar, planning out daily agendas and assigning yourself personal deadlines. Work ahead and don't cut it close, in case anything comes up unexpectedly.
Work carefully. Somehow in the process of copying-and-pasting my "Why Seattle U?" essay into the box on the Common Application web site, I hit backspace and deleted a good chunk of it, conspicuously starting a sentence with a comma. Of course I didn't notice until after I sent it in.
Don't take it personally. Admissions officers aren't judging you; they're judging your application. There's no way your entire life can be reflected in the thin contents of one envelope, and it might even appall you how few people are actually involved in making your admissions decision. Apply to the schools at which you could truly be happy, be realistic and honestly, just do your best.
Did I mention be realistic? I knew college admissions would be competitive, but who knew Northwestern would be rejecting 10,000 students last year, many of whom were at least as qualified as the people who got in (did I mention not taking things too personally?). Really research your chances at each college. Make sure your info is up-to-date, and make sure you apply to some safety schools.
Take long walks. Or, do anything else that will get you out of your everyday routine. Honestly, you should set aside some time not only to de-stress, but to really consider your values, strengths, weaknesses, your goals, your learning style and the environments in which you thrive. Knowing yourself as much as possible will not only change senior year but the rest of your life.
Learn something from your own applications! Applying to college in some ways mirrors applying for a job, and it'll test the way you reach for your goals and stand up to challenges.  Don't just treat this as a means to an end. The college application process, in and of itself, is a once-in-a-lifetime chance to really get to know yourself and prove yourself. Do these things well now and they will carry you even farther later.
And, to stay up-to-date with what's happening in the world of college admissions, don't forget to subscribe to this blog. If you have any of your own suggestions, please comment.
Thanks for visiting. If you're new here, you may want to subscribe to our RSS feed.