This is a very controversial topic. Even within my own mind, I have a conflict on this subject. On the one hand, it is so obvious that there is very little determining value on the scores one receives on his/her SAT or ACT. On the other hand, there must be some objective factor weighted in the admission process and it seems that the standardized tests are that element. So, as much as I would love to see all colleges and universities abolish the tests in their admission decisions, I am here, as one highly opinionated, education-focused person, saying that these tests - contrary to what this New York Times article says - will, in some form, live on in infamy.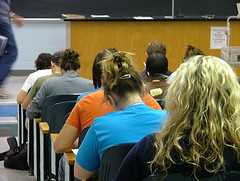 First, let us cover the factors leading up to the reasoning why the SAT/ACT college entrance exams are controversial:
1) These tests are timed and pressured. This is an unfair disadvantage for students with anxiety issues.
2) The knowledge tested is such a small portion of the knowledge necessary for success in college and beyond.
3) They don't actually test critical thinking skills as much as they test one's ability to . . . take tests!
4) They favor the wealthy. In other words, these tests favor those students who can afford to get test preparation, who can afford to take the test several times, who can devote time to studying intensively, etc  . . .
These are 4 solid reasons why most want to abolish the SAT/ACT. Because, while the initial creation of the test was to level the playing field for all applicants, it has grown, as all things do over time, to favor those who have the resources to master the challenge.
Now, let us look at some of the reasons why the test, in my opinion, will not be entirely eliminated, for a long, long time (if ever):
1) You Need a Leveler: Grade inflation and the level of difficulty in earning a an A grade at "high school X" is extremely different from the same letter grade at "high school Y". There has to be a leveler.
2) The Affluent Will Always Have More Opportunity: The fact that those with the greatest resources can better master the tests doesn't really make a difference. Wealthier families can also hire tutors for high school classes, connect their kids to various community service organizations for their resume building, help their kids afford traveling sport and activity organizations, and even hire people to help with the college application and essay-writing process. So, even if you do away with one unfair element, there will always be a way for students with means to create more opportunity.
3) College Admissions Needs a Qualifier: Because of the Common Application and online applications, most students now apply to 7-10 colleges and universities. And this number will continue to grow. This means that there has to be some initial qualifier for student applications to pass into the second round of reviews - where essays are read, recommendations are taken into consideration and the entire application is gauged. The SAT/ACT, GPA and strength of curriculum are the initial criteria to determine whether to dismiss a student's application or to progress it in the process.
4) It's Not the Best Way to Increase Applications: Too many colleges and universities are constantly looking for ways to increase their application numbers. However, instead of eliminating the SAT/ACT, it would make a lot more sense for colleges to just eliminate the college application essay. In other words, if colleges and universities are looking to up their application numbers, they will not eliminate the college entrance exam - they will just lower any sort of minimum requirements, and/or eliminate the college application essay (or make it optional).
It's sad. Isn't it?  We are gauging our students on information that we know (based on lots of research and data) has little to no effect on their future success.
Anyhow, this is just how I see it. Love it or hate it. We've known that these tests have been imperfect for quite a number of years. Yet, they're still here today. And they will be tomorrow. No one has died from the test yet. You won't either. So, do your best to prepare yourself. But, like everything else, realize that there is a cost-benefit to these tests. Is it worth hours every day, sleepless nights and gallons of Red Bull just to get a little higher score so you might get accepted to a school that is just a touch more prestigious (in name) than another? To each his own . . .
Thanks for visiting. If you're new here, you may want to subscribe to our RSS feed.