One of the more anxiety-inducing and stressful parts of the college application process is standardized testing, namely the SAT or the ACT. Getting a good score is a crucial part of a successful application packet, which only adds to a student's stress. However, with proper preparation and a focused approach to studying, the tests become much less of a roadblock and more of a step upwards to a successful admit. Today I'll share with you some common tips that our consultants pass on to our college application clients.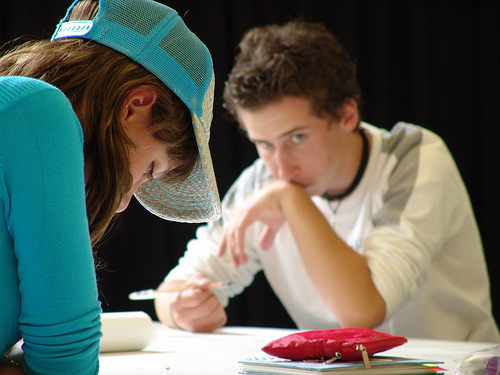 Test takers, courtesy of hyperscholar
First, you need to keep in mind that the SAT and ACT are built just like games. Just as in playing chess, baseball, tennis, or any other game or sport, those who know how the game is played have a huge advantage over those who don't.
Take realistic practice tests: It is impossible to over-emphasize the importance of this point. We strongly encourage students to take at least a few mock SAT/ACT exams, and to try to simulate the actual testing environment as closely as possible (meaning no breaks, snacks, music, phone calls, etc.). You should secure a copy of either The Official SAT Study Guide or The Real ACT Prep Guide: The Only Official Prep Guide From The Makers Of The ACT, as these books use actual test questions from prior exams. Their practice material and tests will be most similar to the types of questions you will see when you sit for the exam. Understanding the flow of the test is crucial to developing your time management skills and will help you manage the test, rather than letting it manage you.
Recognize the ascending order of difficulty: SAT and ACT math questions become more difficult as you go through each section. If you are nearing the end of a section and find that you cannot figure out the last few questions, don't waste your time trying to answer them. Your time will be better spent reviewing your answers to the questions in the beginning and middle of the section. Keep in mind that all the questions are weighted the same. You won't get extra points for answering the hardest questions. Furthermore, a few blank answers will not make a material impact on your score.
Don't waste time: This probably sounds like self-evident advice. However, we mention it because we've often had clients tell us how they inadvertently wound up wasting precious test time by going back to re-read directions after the test had begun, or by not making it back from their hourly breaks promptly. Remember, these activities will take time away from working on the questions, which is where your score ultimately lies.
Read the questions carefully: As silly as this piece of advice may seem, it can make a big difference in your test score. The undisciplined test taker will feel the stress of the clock during the timed sections and will try to cut corners to save time however and whenever possible. As a result, they read questions too quickly and often misinterpret them. Test writers are well aware of this tendency and are happy to exploit it. We guarantee that you will encounter questions on the test that offer incorrect answer choices that are deliberately designed to trick you.
Practice, practice, practice; As we stated at the beginning, there are tips and techniques to taking the SAT and ACT that will raise your overall score significantly. As a result, these are tests that you can prepare for – despite what the test-makers state. We strongly encourage you to take practice tests that use actual questions from previous college entrance exams. We feel strongly that there is a significant difference in the quality of the test questions prepared by the test writers and those written by the test prep companies.
While we believe every test taker will benefit by reviewing each SAT or ACT exam section, we encourage you to spend the most time studying and practicing questions in your weakest subject area. This will provide you with the most efficient use of your test-prep time.
Thoughts on Retaking the SAT or ACT
Obviously, it will be in your best interest to do your best on the SAT / ACT the first time you take it. If, however, you believe your test score is not what it could be, it won't hurt you to retake this important exam. Most colleges will only look at your highest test score. Many of the college admissions officers we know will even be impressed if you show an improvement in your test scores.
If you have any questions regarding your scores on the ACT or SAT, would like to know more about the college application process, or find yourself 'stuck' on your essays, why not give us a call? Our consultants are all former admissions officials and come highly recommended by previous clients. Visit our website, drop us an email or call our offices at 703.242.5885 for more information.
Thanks for visiting. If you're new here, you may want to subscribe to our RSS feed.