When I was a senior in high school, the aspects I looked for in a college are very different from what they would be today. The top priorities of my "dream school" were: large campus, away from home with a good social scene. My parents dragged me on endless tours of colleges along the east coast. While my questions consisted of "Is the football team any good?" my parents, obviously the more practical ones, asked about tuition fees and parking policies. As a freshman, sophomore, and now junior… I realized I left a few important questions out.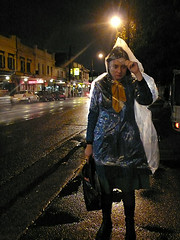 Photo by Laura Appleyard
With all the hype and buzz that senior year can bring, you can easily forget how big of a decision picking a college can be and how it will affect your future. I remember getting sucked into the constant chaos of counting acceptances, ignoring wait-lists, and dealing with the ultimate life-ruiner: being rejected from my first choice. After reading the neatly-packaged and rather depressing rejection letter, I could care less about what university I attended. Since I was no longer going to the fantasy school I played up in my head, I stopped caring and asked few questions when seeking out colleges. If I could go back to my very first tour of The University of Rhode Island, here's what I'd ask:
What's the weather like? (It took me 2 years to realize I seriously needed to purchase a pair of rain boots)
Can freshmen have cars on campus? If not, is there an airport, train station or bus station in the area?
What type of meal plan do they offer? Will I need additional money for food?
What is the school's visitor policy?
DO THEY OFFER MY MAJOR?
Is there a place on campus that I could practice my religion?
Can I apply for any scholarships?
Can I still pursue what I did in high school? (in my case… join a dance team)
Those are just some of the questions that, looking back on it, I don't even know why I did not ask! Question #5 may seem like a silly thought to you. I know when I was high school I figured that at any school I picked would have the majors I wanted. At that point, I wasn't looking into Public Relations but it's not a typical major that all schools have. Luckily, URI does have a PR program but what if they didn't? My whole career path would have changed. My advice to you is: don't get tangled up in what schools your friends are going to, where your parents want you to go, or which school has the best reputation. Take time to talk to your counselor, go through some online college matching sites (like myUsearch, of course) or visit a few websites of potential colleges. Make sure they fit YOU! You think high school was long? Well, you have another 4 years of college, so make sure your college is the one you want. After all, your college years really are the best years of your life!
Thanks for visiting. If you're new here, you may want to subscribe to our RSS feed.