I started seriously looking at college applications last summer. A year ago, I never would have guessed I'd end up going to Yale. It wasn't even on my list. If there's one thing I learned about the college admissions process, it's to always keep an open mind.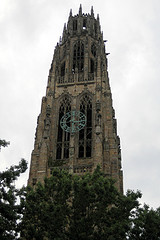 I began applying to colleges with my heart set on the University of Chicago, but even then I knew better than to limit myself. I chose eight colleges that varied from Carleton College, a small, quirky, intellectually-minded school in a rural Minnesota town to Tulane University, a school known for its wild student body and New Orleans location. The truth is, you don't know exactly what you'll want in a college by the spring of your senior year. Does a large, party-oriented school sound like heaven to you now? Perhaps. But by the end of senior year, you might want a smaller, more intimate college setting. 
I applied to Yale because my dad thought I should "just to see if I have that opportunity." I pinched my nose when I submitted my Yale application, nauseated by the Ivy-hype: humdrum, rich, polo-shirt wearing snobs looking for a fancy name to brag about to their friends. This hype, I thought, was not for me. But I applied anyway, and I can't tell you how happy I am that I did. When I got accepted, I decided to visit Yale. I learned not to judge a school before I saw it for myself. All of my preconceived notions transformed as friendly, smart, and normal Yalies welcomed me onto campus. I realized it could be the perfect place for me. If you can, visit the colleges you apply to!
Diversify your college list. I recommend using The Students' Guide to Colleges

for some insider information on different colleges' "personalities." Flip through this book, jot down a few schools that might interest you and research them more by:
Looking up basic statistics about the school on College Board
Browsing the school's official website
Then shove off everything you think you know about these schools and visit the campus for yourself. Be open-minded and form your own opinion. Only you know what the best fit is for you.