Eight U.S. universities comprise the 'Ivy League' – Brown, Columbia, Cornell, Dartmouth, Harvard, Princeton, the University of Pennsylvania and Yale. Although the term 'Ivy League' actually refers to an athletic division, all of the Ivy League schools rank near the top of the U.S. News and World Report college rankings and rank within the top one percent of the world's academic institutions in terms of financial endowment. The Ivy League comprises some of the most established, prestigious, selective and well-financed universities in the world. But is the Ivy League for you?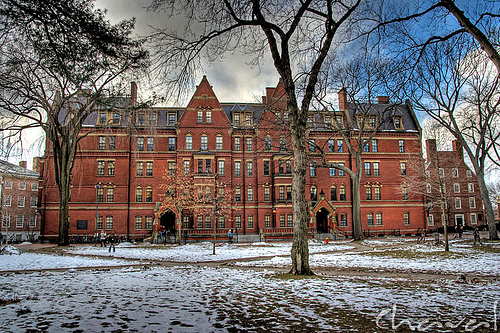 Harvard Square, courtesy of Chaval Brasil
Can I get in? Can I afford it? Is it worth it? Which Ivy League school is best for me? These are questions only you will be able to answer, but before you jump to any conclusions, consider these factors:
Price: If you have to take on a chunk of student debt that will take you thirty years to pay off, is it worth it?
Location:  Some are located in large cities and some in small towns. What is best for you?
Religious Affiliation: Some have religious affiliations, some do not. Is this important to you?
Program Quality: Some programs are stronger than others. If you're interested in engineering, for example, you should probably look beyond the Ivy League. Only a few Ivy League schools have top-rated engineering programs – and (like any school of engineering) they are stronger in some areas of engineering than others.
Your College Major: Examine the majors available. Be sure to choose a school that offers classes in all of the subject areas you are considering.
Extracurriculars: Does the school have all of the club sports or organizations you're interested in?
The Size of the School: You may want to consider what size of school is best for you.
Distance from Home: How far are you willing to go?
Climate: Keep in mind all of the Ivy League schools are in places that are really, really cold.
Before you decide firmly on an Ivy League school simply because of its name or prestige, you need to make sure the school meets your own needs. Take the myUsearch questionnaire or consider a campus visit to find out whether these schools match your preferences for the criteria above. And remember, the Ivy League is not the only place to find a quality education. You can find features like a low student-to-faculty ratio, high teaching standards and strong research support at other universities as well. Moreover, non-Ivy League schools might offer things that are important to you – like a climate that doesn't include ice and snow.
However, there is no denying that an Ivy League education has some serious benefits. A degree from an Ivy League school will always draw attention to your resume, and you'll have entry to a valuable alumni network. You'll also receive instruction and mentoring that can help position you for competitive graduate programs and prestigious awards like the Rhodes Scholarships. But Ivy League educations come at a price – both in the tuition you pay, and in anxiety over the schools' highly competitive admissions. If you think the Ivy League might be for you, I recommend applying, but make sure you're making an informed decision before you take the plunge.
For some current statistics on acceptance rates, average SAT scores and other factors on the Ivy League, check out the handy table located on our website. And as always, if you have further questions, our consultants are more than happy to answer those and other concerns or comments you may have. Give us a call at 703.242.5885 or drop us an email here at AdmissionsConsultants.