The new GI Bill effective in August will cover a veteran's tuition up to the price of the most expensive public undergraduate institution in the state (based on in-state tuition), even if the student is at a private college.
In one part of the bill, called the Yellow Ribbon program, private colleges that cost more than the most expensive public option (or public schools looking to cover more tuition for out-of-state students) can develop a matching program with the Department of Veterans Affairs. The college would establish how much tuition they'd be willing to cover for how many students, and Veterans Affairs would also match that. Yellow Ribbon is meant to be a nod of respect to veterans, but how many colleges are actually likely to jump on board?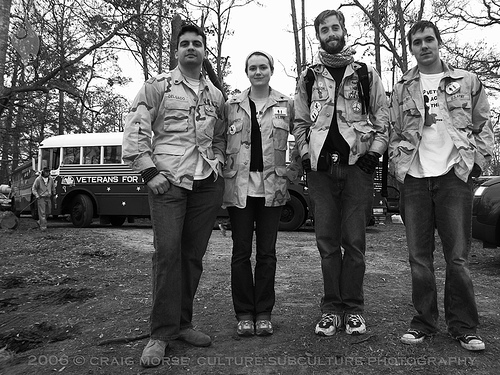 photo by The Voice of Eye
"Most schools aren't going to want to do a Yellow Ribbon program … because their finances have been hit too hard in the last couple of months," said Keith Wilson, director of education service for the Veterans Benefits Administration, in an interview for The Daily Press. "Schools are really struggling right now."
Still, a handful of colleges have already announced their commitment to participate. According to The Pittsburgh Post-Gazette, four small private colleges in the Pittsburgh area are already planning to use the program.
For the most part, however, colleges will be putting the opportunity aside because of the economic downturn. Inside HigherEd reports that although donations to university endowments increased in 2008, many schools have already experienced a drop throughout 2009.
Some also see the parameters of the bill as somewhat unfair, because it's based on in-state tuition. For instance, someone in Arkansas would have $5,300 per year waived based on University of Arkansas' average tuition and fees. In Texas, on the other hand, where figures were based on University of Texas at Austin's pharmacy program plus a $12,000 fee in a specialized pilot school program, the waiver comes out to over $56,000 per year. Vets and colleges from Arkansas would have to foot a lot more of the bill than vets from Texas. (Read here for more)
Widespread participation in the Yellow Ribbon program seems unlikely in the near future. Wilson said the lack of interest was "not what we would have expected, had we asked the question six months ago" but he expects that colleges "may do something token."
Readers: what are your thoughts? Is the Yellow Ribbon program a good idea struck victim by bad timing, or is there a better way to serve veterans through higher education?