Today we have a guest post by Jennifer Cohen, President and Chief Word-Nerd at Word-Nerd.com, a great resource for SAT and PSAT vocabulary prep.
If you're reading this, you're probably one of those students - the ones with great GPAs and killer SAT scores.  You've got your eyes on the prize, so here are a few ideas to help you get into the top US colleges: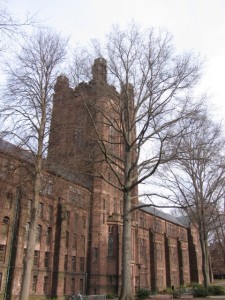 Photo by Julie Manhan
1) The current trend is towards "angular" admissions.  You've already got the grades, but admissions departments at top US colleges are looking for students with one or two special skills or passions.  Once upon a time, selective schools looked for "well-rounded" students. Nowadays angular admissions have changed the equation. You might enjoy playing an instrument or sport, or enjoy cooking or writing computer programs. Admissions departments see plenty of applications from students with great grades - the trick is to set yourself apart from the pack.
2) Top US colleges want to know you're not just a serious student.  Have some fun too.  Whether it's sports, clubs, or bird watching; you need to have a life outside of school.  Living and breathing your studies isn't healthy in the long run and schools don't want to be talking you down from the ledge when your engineering project explodes.  A huge percentage of the learning you'll do in college takes place outside the classroom, so show them you're up to the challenge! 
3) Shine in your interview!  Reality is that most applicants to top US colleges have the numbers to be accepted.  Your interview is not only an opportunity to learn whether a school is right for you, but it's also a way to show a school that you're right for it.  Use all of those interesting experiences you've had in and out of school, and let your interviewer see who you are as an individual.  Leave your agenda, your bullet points and your resume at home, and let the conversation guide you.  Be sure to prepare for each specific interview as well and ask questions that show you know more than just the college's name.
4) Make use of your summer vacations.  The school year is always tough, especially when you're focused on keeping your grades high.  Use the summer to visit colleges, do your SAT prep and enroll in summer learning programs.  Don't overload your time during the school year just to waste the summer by the pool.
5) Keep your expectations in check.  Getting into top US colleges is a serious challenge and these schools turn away thousands of qualified students every year.  Don't get your heart so set on Harvard that you're crushed when you hear you've been waitlisted.  You may be nixed simply because they've already admitted enough students from your area.  Apply to a variety of schools and rest assured, you'll find a fit somewhere.  A positive outcome is a certainty if you enter the process with the right attitude.
Good luck!  Great schools are waiting for you.