I have spent the last few weeks sifting through the scholarship essays submitted for the scholarships for mothers that we are about to award, and I feel it's my duty to pass on a few tips to you.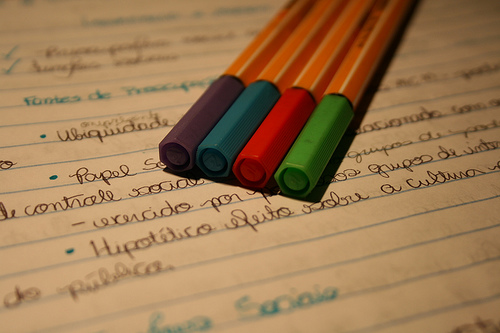 Photo by lethaargic
Spell Check! Seriously. How hard is it to spell check? If you are submitting scholarship essays to online forms that do not have spell check, just copy and paste it into a Word document to use the spell check. This can make or break your application.
Quit Complaining. I truly have sympathy for all of the students who face severe adversity, but trust me you are not alone. Unfortunately there are millions of students who have survived horrible situations, but that isn't what will win you a scholarship. Briefly explain the difficult situations you have endured, but spend the majority of your scholarship essays explaining how you will overcome your adversity. This leads me to my next point……..
Prove Your Value.  A scholarship gift is an investment. Instead of convincing the organization that you are the most deserving by making them feel sorry for you, show them why they will see a return if they decide to invest in you. How will you become an asset to society and why will the world be a better place if you can earn a college degree?
Write Something Interesting. Remember, your scholarship application reader probably reads hundreds of scholarship essays each day. Start your essay with a bang and write about something you feel passionate about. If you write something you'd like to read, chances are your reader will like it as well. There is nothing worse than an applicant trying to fake enthusiasm for something they think their reader will care about.
Be Succinct. Be respectful of your reader's time and get to the point as soon as possible. Re-read your scholarship essays and try to take as many words out as you can.
And with that, I'll take my own advice and end it there. If you have any more questions or tips for writing scholarship essays, please leave a comment! Happy Hunting….