Since Spring break is almost upon us, you might be freaking about your freshman 15. Is five weeks enough time to shed your extra college pounds?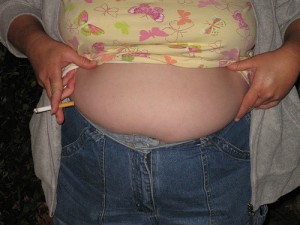 Photo by meshmar

Well…….it all depends. There are plenty of crazy diets out there that will help you shed the freshman 15, but if you want to take the weight off and actually KEEP it off, you won't want to lose more than two to three pounds a week.  This may not get all of the weight off, but it will be a great start and the habits you'll form will help you stay healthy long after spring break. So exactly what should you do to lose the freshman 15? The following should be your top priorities:
Figure out how many calories you're actually consuming. Most of us well underestimate the calories we consume. The best way to figure out how many calories you are consuming and burning is to use a calorie burn monitor and an online food journal. The best system I've found is the Body Bugg. But if this is out of your price range, you can also make good headway by simply writing down everything you eat – including the serving size. You'll be amazed how many times you eat without realizing it.
Avoid alcohol. I know this is kind of a ridiculous suggestion for college students, but the fastest, safest way to lose weight is to cut the empty calories out of your diet.
Step away from the Starbucks. I won't get too crazy and tell you to completely avoid caffeine (although you SHOULD consider it), but make sure to avoid any of the high calorie mochas, lattes and yes, baked goods from Starbucks and other coffee shops. They are LOADED in calories.
Exercise. This is an obvious one, but make sure you fuel yourself enough, but not too much after exercise. Again, the Body Bugg system is the best way to manage this.
Add Tabatas. The Tabata method of exercise consists of intervals completed in a 4 minute span of time: 8 rounds of 20 seconds of all out max effort followed by 10 seconds of rest. In his 1996 study, Dr. Tabata concluded that interval training bouts of only 4 minutes can do more to boost anaerobic and aerobic capacity than an hour of endurance exercise. Mindy Myrlea has some great YouTube videos with Tabata exercise ideas.
Try those five tips and you'll be well on your way to shedding the freshman 15! Yeah Spring Break!