When I got off the plane in Connecticut this August, I was already worried that home was disappearing behind me. I wondered what it would be like to return home at Thanksgiving. Would I feel like I'd never left, like no time had passed and nothing had changed? Or would I feel out of place, like home wasn't home anymore? I think a lot of first semester college freshman struggle with losing their sense of home. Here's my experience going back for the first time.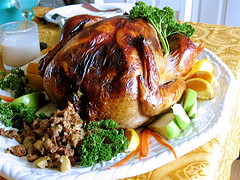 Photo by xybermatthew
I've been a little homesick since I've started college (okay, that might be an understatement), and I was eager to go back to Colorado for Thanksgiving. After over twelve hours of travel, I was dragging my suitcases through my front door. I think that's when I first realized home wasn't the same — I'd packed my bags to go "home", and something just seemed wrong about that. One of my dogs, Alfie, was at the door. But she ignored me as I walked in and instead greeted my dad. My dog had forgotten me: a clear sign that home had gone on without me.
For the first 24 hours, I felt like I didn't belong. I didn't know what to do with myself. None of my friends were in town anymore. I didn't have all of my clothes and my books there anymore — there weren't even pens in my desk. After being on my own schedule for three months, my parents were giving me a curfew and telling me what to do again. After looking forward to going home, I was in limbo. College didn't feel quite like home yet, and what I'd left was quickly becoming "my parent's house."
Even the town had changed in three months. A new Sonic opened on Main Street and the Safeway grocery store rearranged its interior. I didn't know where to find yogurt there anymore, and for some reason, this was very distressing.
After a day or two, it began to feel more normal, though it will never be the same. It was good to be with my family and they were all basically the same (except for my brother, who had grown to be 6' 3"). I stopped by my high school to see some of my favorite teachers, and except for the visitor's pass I had to carry around, it was like nothing had changed.
Maybe the best part about going home was coming back to school. When I returned to school my suitemates greeted me with big hugs and inside jokes we'd developed in the past few months. My dorm room didn't feel small, but "cozy." For the first time, I felt like maybe I really did belong there.
I'd love to hear about how other people felt going home for the first time. Leave a comment and tell me about your own experience or give advice to freshman returning home for the first time.
Thanks for visiting. If you're new here, you may want to subscribe to our RSS feed.