I'd like to let you in on a little secret: I am usually assigned topics to cover for this blog and I, naturally, follow my grand-master's guidelines to the "T". However, this month, no such luck. I was told to write on anything- ANYTHING that I choose. I'm picturing my high school seniors who come to me saying that they're choosing to write their college essay using the Common Application's prompt, "Topic of your choice". So I guess I will take the advice I often give them and "be specific". I would like to talk about how important it is for students to become their own advocates in the college application and admission process.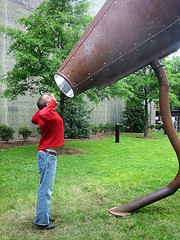 Photo by theparadigmshifter
I remember speaking with one of my friends who is an admission counselor at a strong, private, liberal arts university in the south. She told me with no indifference, that she could recall admitting a student just because he sent her emails on a regular basis with interesting questions and thoughtful things to say. He called her once to ask her a question regarding a letter of recommendation and at the end of the conversation, he wished her "a great day". Why is this so special? It's most likely because my friend- and every other college/university admission officer- gets hundreds (if not thousands) of calls and emails every college application cycle, and 99% of them are NOT from the students who are actually applying. So, who is calling and writing? Certainly I am. Other high school guidance counselors most definitely are. Teachers. Alumni who have friends whose kids are applying. But, most often, it's the parents of the students who are pursuing contact. Usually, they're over-aggressive, over-thorough, over-interested and, worst of all, over-proud! Their student is NEVER just a normal kid. You get the point. So, what can you do?
Most universities and colleges have admission counselors who are dedicated recruiters for certain areas. These college admissions counselors are placed on the front-line, fielding all of the questions and concerns for their geographic region. This often means they will be the first person to review the applications from that region and will be the direct liaison and advocate for these students to the admission board/review committee when/if they get through the initial review. In other words, you have an advocate out there. This is usually the same person who is attending the local college fairs and coming to your high school to introduce you to their school. He/she has an email address and a phone number specifically for work purposes . . . and you are their purpose. Sometimes it's very difficult to locate this information on a university website. But, usually not. Don't write foolishly. Don't overdo it. Ask questions that you really have. Tell the truth. Be gracious- you're not the most amazing applicant they've ever seen, I promise. Treat them with respect. Be courteous. No one wants to help a jerk. Don't get frustrated if they seem busy, they are. Don't think that they're being rude because they only respond with one sentence, they responded didn't they?!
Start learning to be your own ally. Be proud of what you have accomplished and forthright about where you need improvement. You know yourself better than anyone and because of that, you will be a great champion of your admission. With my greatest humility and my extreme gratitude, I leave you with this advice to not let others speak for you. It won't help in business, relationships, families, school or any other facet of life, so you're going to have to learn this at some point. There's no better time than the present. Engage yourself. Welcome to college.