In many cases being a mom means more than being the family nurturer, sometimes it also means being the family's source of financial support. Putting food on the table may be a combined effort or, in the case of the single mom, a sole responsibility. Having a job with good pay, benefits, and flexibility significantly reduces the struggle to raise a family. In order to find good jobs, one needs the education employers require. Yet, for many mothers, even those who stay at home and raise children on one income, returning to school can be financially challenging. How can these women get the education they need in order to enter the workforce? How can they gain access to careers that will give them the pay and benefits they need? Scholarships for mothers may be a viable option.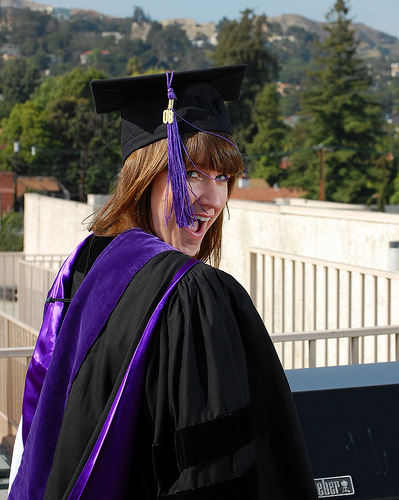 Photo by Octopushat
Grants and Scholarships for Mothers
If you're a mom who has considered going back to school or you know one who would benefit from advancing her education, there's good news! The United States government is making an effort to help moms go to college. Today, there are better grants and scholarships than ever for mothers who desire to achieve a college degree. Better yet, scholarships and grants do not have to be repaid. Under the Obama administration, the Federal Pell Grants have been significantly increased. These are reserved for low income students. A single mother in the low income bracket can certainly take advantage of this grant by choosing a college and filling out a deferral FAFSA form. In addition there are tax breaks for higher education through the American Opportunity Tax Credit program. Outside of the federal government there are many scholarships for mothers and in particular, single mothers. You can apply for as many as you like and some scholarships may be worth more than Pell grants. Searching for "scholarships for mothers" will provide you with thousands of results. Scholarships are available from many different sources including state and national programs as well as private foundations and organizations. In fact, myUsearch offers scholarships for mothers and will anounce the winner of their "Mommy Goes to College" scholarship this week! Another wonderful thing about these scholarships is that mothers usually have the opportunity to pursue their education online.
Evaluating Scholarships
If you're thinking about taking advantage of a "scholarships for mothers" program, be careful to steer away from scams. Scholarship scams come in all shapes and sizes and aren't only targeted at moms. That is why, when applying for any scholarship there are certain things you should look out for. First, don't let a name make you feel secure. Just because a scholarship program sounds official, doesn't mean it is. Having the words "federal," "national," or "administration" in its name does not make it legitimate. Be very wary of "too good to be true" scenarios. Do not pay money to get information about scholarships. Be wary of anyone guaranteeing scholarships. There should be some criteria set for eligibility – "everyone is eligible" does not fit the legitimate scenario for scholarships. These are just a few of the tell-tale signs of a scam scholarship program. You can find more information on scams here.
A Better Life Through Education
Education is important for our nation's mothers. Not only does it allow them to provide a more secure financial situation for their families through achieving a degree, but they also provide a good example to children by showing the importance and value of a good education. Even for mothers who can rely on a spouse's income, an education may serve them well if something unexpected happens to their partner such as job loss, injury, divorce, or death. Remember, no job has a lifetime guarantee, but no one can take away an education earned.