Today's guest post was contributed by Eugene Aronsky from wecomparebooks.com
College is expensive. (I am sorry to be so blunt, but this is true). What's more, given the state of the current economy getting funding for college is far more difficult, and for those of us who are able to get loans to pay for school, paying those loans back will not be easy. On this note, I would like to talk to you about some things that you might do to make college more affordable.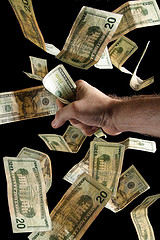 Photo by Steve Wampler 

 For the majority of us, college tuition is the most expensive single bill that we will ever see in our lives (sure we might buy a house, but it is unlikely that our monthly mortgage will come near the cost of a single semester). Unfortunately there is little that we can do (outside of going to a cheaper college) to lower this bill.  For those that choose to attend college away from home, one easy way to save money is by sharing an off-campus apartment with friends, this will usually save you money on your living expenses, as well as on food (given the high cost of most campus meal plans). However, I would not recommend that you live off campus prior to your sophomore year (since off-campus housing requires more responsibility…)
Besides tuition and room/board, there are many other costs that most college students need to consider – like having a life. For this, I want to remind you that although having a good time is an integral part of any college experience, "having a life" costs money, and if you want to have a life, you should have a job to pay for it.
Lastly I want to talk about some of the costs that you CAN control, textbooks, school supplies…  When it comes to school supplies, there is no shame in buying notebooks and such at the local drug store instead of the bookstore (you might not spend $1000's on notebooks/pens, but every dollar you save counts).  For those who want memorabilia with the school logo, I would recommend buying it online (the bookstore is owned by a big corporation and you are not showing school spirit by overpaying for something at the bookstore).
Lastly, textbooks. Textbooks are likely to eat up 10% of your college cost, and this is the place where you can save the most money. Remember, the college library usually keeps every book on reserve, and if you want to study at home, the copier is your friend. (Also, you can often borrow textbooks from the library at your school, or request textbooks from other university libraries through your school). For those times when you absolutely need the actual textbook, the most important lesson is, DO NOT use the school bookstore, plan ahead, and order the books online. If you are unable to order the textbooks before your class starts, order the books on the first day of class and share with a friend for a few weeks while the book is being shipped. If you wish to get the most benefit out of online textbook shipping, I recommend that you use a textbook price comparison site. These sites allow you to compare prices on books at multiple bookstores and will ensure that you will find the best prices on new or used textbooks.