Last week I attended the RMACAC conference in Colorado Springs and attended a presentation given from college admissions insiders from three different selective colleges across the country. Jared Cash, Associate Dean of Admissions, Bates College; Todd Rinehart, Assistant Vice Chancellor and Director of Admission, University of Denver; and Abby Noel, Assistant Director of Admission, Vanderbilt University shared some inside information about how they determine who is accepted or denied admission to their colleges.  This is what I found out……..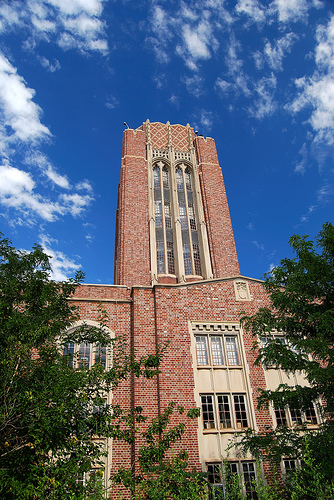 Photo of the University of Denver by Velotech 

First College Admissions Insider: Todd Rinehart from the University of Denver
DU enrolls about 1,140 students each year and this is how the numbers for 2009 broke down:
Inquiries: 58,000
Applicants: 10,777
Admitted: 5,866
Anticipate enrolling: 1,145
The demand for DU continues to grow, and as a result applications were up about 30% this year. The  competition to be admitted has increased, but for a number of reasons, including the challenging economy, they also admitted more students than usual. 
From a "big-picture" view, DU's criteria for making admission decisions focuses primarily on academic measures:
GPA = About 55% of the weight of the decision rests on the grades you have earned in class.
Test Scores = 30% of decision (always use the highest single score, no penalty for taking test more than once)
Supporting Documents = 15%
These supporting documents include the Hyde Interview, the strength of the curriculum (the number of core classes each term, and number of Honors, AP/IB, etc.), essay, the strength of the high school, etc. Essentially, if the student's test scores and grades are within the top 25% or so of the applications, they are probably going to be admitted. But if they are a borderline student, they "peel back the onion" by:
Reviewing grades in core academic classes (including a count of lower grades in core classes- # of Cs and Ds)
Checking out your senior year performance (yes, senior year does count!)
Determining how competitive your high school is
Determining how challenging your course load is (# of AP/IB courses)
If you are in the top 25%, you are probably good to go, but there are no guarantees for admittance – even if you are in the mid-50% of last year's admission statistics. So, the bottom line is…. Apply to safety schools!
Second College Admissions Insider: Jared Cash from Bates College in Maine
The process at Bates College is definitely a little more in-depth. Believe it or not, they actually do four reads on every single application! That's right. They read your college application FOUR times. 
First Read: They read the entire file including essays, transcripts, etc. and spend 30 minutes per application. 30 minutes..my goodness!
Second Read: They focus on academics, teacher recommendations, credentials and quality of writing. This read is done by someone who is removed from the process, so they can take an objective look at the students' academic performance.
Third Read: Also known as the "School Read", the application is read and ranked in the context of other applicants from the same high school. The mid-year grades are added to the application in this read.
4th Read: All last minute preparations and decisions are finalized before a committee.
This is obviously a very intense process. Bates College really wants to make sure the students they admit are a good fit for the college and Cash left us with this take away:
"Don't underestimate the students' ability to prove they are a good fit for the college in their application. Students need to make an effort to tell us why they think Bates is the right college for them." Take this to heart.
Third College Admissions Insider: Abby Noel from Vanderbilt University
Vanderbilt University is extremely competitive. Just because you are a valedictorian doesn't necessarily mean that you'll get in. The students who make it through the college admissions iron curtain have to make it through the following process:
All applications are read at least once.
All files receive a preliminary academic evaluation.
Lowest academic candidates are then read and decisioned.
Potentially viable students go to the territory officer for thorough read, then on to another reader and then held for further consideration.
Top candidates are passed on for scholarship consideration.
Files that were held are then moved to admit, deny or waitlist.
After that, it goes through a few steps and eventually makes it to a committee.
The numbers:
Applications: 19,350
Admit Rate: 19%
92% of students were in the top 10% of their high school
ACT mid 50% = 31-34
SAT mid 50% = 1400-1560
A Case Study: Student #1
This student had a 1600 SAT, graduated in the top 5% at strong private school, but had very little extracurricular involvement.
Decision: Admitted, despite minimal extracurricular involvement.
A Case Study: Student #2
This student had a 1460 SAT, graduated at the top 5% at a mid-range public school and his older brother was a current student at Vanderbilt University.
Decision: Waitlisted. The academic performance was right on the borderline of applications and the brother connection did not tip the scales.
A Case Study: Student #3
This student had a 31 ACT, was #1 in her class at a small, rural public high school and had a ton of extracurricular and community involvement.
Decision: Waitlisted. Even though she was #1 in her class, she was put on the waitlist because she didn't stack up in the broader applicant pool.
And……. Vanderbilt does not take demonstrated interest into account for waitlist students.
In conclusion, Vanderbilt is VERY focused on the academic performance. The borderline students have a rough time getting in, but there is still hope.
So what now?
If you are applying to a selective school and your academic performance is on the borderline, there are ways to make yourself stand out and tip the scales in your favor. However, there are no guarantees, so don't put all of your eggs in one basket. Apply to safety schools and look outside the box to broaden your college options.
And don't forget! If you want to broaden your list of colleges, find the right school for you with myUsearch!