The application and college selection process is extremely time-consuming, yet without the appropriate financial aid package, this could very well be time wasted. Therefore, it is important to have an idea of the best scholarship sites in order to find that critical component. So, without further adieu, let me show you the money!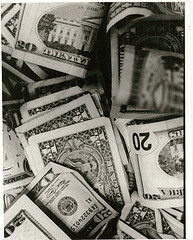 Photo my Borman818
Aside from these reliable sites, the very best scholarship site for domestic students and residents is simply Fafsa.ed.gov where the majority of every student's financial aid package will come from.
Granted, these sites are centralized and extremely helpful, but if there is one other bit of advice that I may offer to students working hard to earn some college money: Check with your local service organizations (i.e. Rotary International, Lions, Kiwanis, Knights of Columbus, etc …), go to any local businesses that might be well-established within your community, and check with businesses/offices where your parents or other family members may work. Often, corporations and businesses offer small scholarships for outstanding local students who are pursuing their college dreams. And don't forget, myUsearch.com dedicates at least 10% of profits to scholarships as well.
With that in mind, keep on top of your pursuits and stay focused on the end-goal. You will make it happen!
More scholarship articles.