Every year, thousands of high school students travel the country to tour colleges, but is it really possible to find your perfect college?  Or, is this a misguided goal that sets expectations impossible to achieve?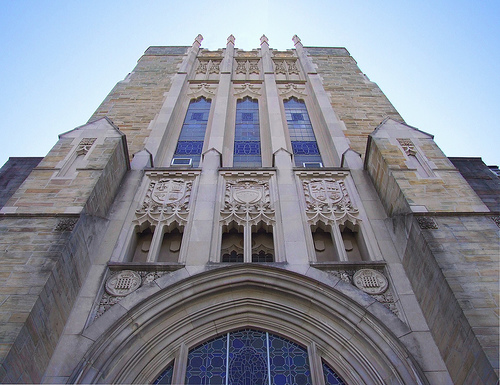 Photo by jrossol
Here are two stories to consider . . .
During the summer before his senior year of high school, Jack and his family toured dozens of colleges in the eastern United States, including College X and College Y. Jack applied to both College X and College Y, got in and decided to go to College X. The next September, Jack and his family loaded the family car and drove to College X. When they arrived at the campus, Jack looked out of the car window and said, "Hey, this is not my college!" Somehow, College X and College Y had gotten mixed up in Jack's mind and there he was, all signed up and ready to start at the wrong school! But Jack started at College X and absolutely loved it. I have protected the names of the colleges for this blog post, but the story is absolutely true!
Jessica also toured dozens of colleges with her family. She applied to 12, got into 10, and returned to five of those colleges for repeat visits. She sat in on classes, slept over in dorms and met lots of students. Finally, she made her decision. College X, a private rural college, was the school for her! But guess what. After one year at rural College X, she decided the big city was more her style and transferred to a large urban university. Again, I have protected the name of the college for this post, but the lesson is clear. The lesson is: All the smartest decision-making in the world doesn't necessarily ensure that you will find your perfect college.
Trying to find your perfect college through the standard college search process can be like trying to pick a car by only looking at one tire. You will never really know what a school will be like until you move in and start going to classes there. So does that mean there is no point in trying to pick a school that is right for you? Not at all. By simply setting aside the notion of perfection, you can find a great school and here are a few tips to help:
Apply to cluster groups of schools. Instead of trying to pinpoint one ideal college, apply to groups of them that meet certain criteria. For example, you could apply to four research-oriented universities with programs in biological sciences and four colleges with strong programs in fine arts. As your acceptance letters come in, evaluate how you have done in your clusters, not in your acceptance to just one school.
De-pressurize the process by remembering no decision is final. Of course you want to "hit it right the first time" and make a good choice, but record numbers of students are transferring today. If you don't find your perfect college on the first try, you can move to another.
View college as a process, not a done deal. You might go to a particular college to reach certain immediate goals, like building up your grades after a less-than-stellar performance in high school. Or maybe you have grown up in a less-than-stable family environment and your college experience will be a time of not only academic, but personal growth.  Let's face it – life is always in flux. And why shouldn't your college years be part of that flow?
So, is it possible to find your perfect college? Quite possibly, but it's a lot easier to find a "great" college.
The key to success is to engage in the whole process with an open mind – and to start your college experience with a sense of adventure and discovery.