As the price tag for a college education continues to increase, it is no surprise that the thought of how to pay for it weighs heavily on parents and students.  For too many families, this concern may present a seemingly insurmountable obstacle, but like most obstacles, there may be another way around.  Here are five ways to find aid for college: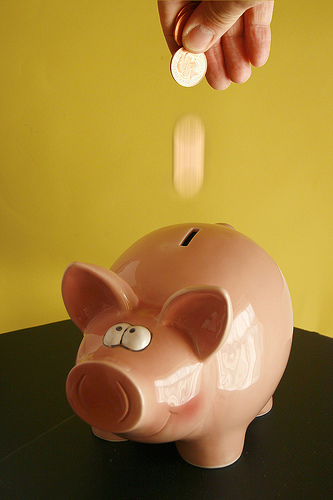 photo by alan cleaver_2000
Think of scholarships as your best friends. Because this type of aid for college doesn't need to be paid back, it is one of the best ways to reduce your college cost.  Go to your school's counseling office and online to find local and national scholarships, and start applying.   Just don't make the mistake of only applying for the big scholarships.  Even small scholarships can add up quickly. Check out our scholarship tips.
Get ahead in college credits. There are many ways to do this.  Some districts allow dual enrollment in high school and community college, enabling students to earn college credit while they complete their high school requirements.  There's also the possibility of earning college credit by scoring well on AP® or CLEP® tests.  Once you're in college, you may also want to consider taking some less expensive general education  courses at your local community college during the summer.  The more you are able to do this, the less aid for college you are likely to need.  It's important to note that policies on these options vary widely from college to college, so it is essential to do your research in order to discern which option is the best choice for you.
Think outside the box. You can also cut costs by being creative.  For example, consider renting your textbooks or buying them online.  Look for a job that offers free meals.  Consider becoming a resident assistant.  (Their room and board is generally free or deeply discounted.)  Need something for your room or a class?  Start your search at a thrift store.
Remember that less can be more. Consider choosing a  smaller meal plan.  Keeping some healthy dorm snacks in your room that you can also eat for breakfast or lunch may not only save you money, it can also be much healthier.  Sticking to spending a limited amount of money on non-school related activities each month is also a good way to keep your costs under control.
Always put forth your best effort in school and beyond.  The truth is that the better your grades and the more rigorous your classes, the better your chances of receiving institutional scholarships and/or merit aid for college.  This type of student aid is what will reduce your costs most significantly.  Being active in your community may also open doors that will help you keep your costs down through scholarships, jobs or internships.
In addition to the suggestions given above, it's essential  to keep your options open.  Even though it may not be what you planned, your best college choice may be a state school closer to home or a lesser-known private school that is willing to offer you a great deal of aid for college which you will not need to pay back.  Perhaps, completing your first two years at a community college will be the right path for you.  No matter your path, the most important thing is that it gets you to college.