Students and their parents often experience "sticker shock" when it comes to the price of college textbooks.  Students can end up paying over $1000 in the course of a year if they choose to purchase all new textbooks.  If you happen to take courses that have an additional lab or supply fee, that amount could be even higher.   The good news is that you now have a money-saving option: you can rent your textbooks online.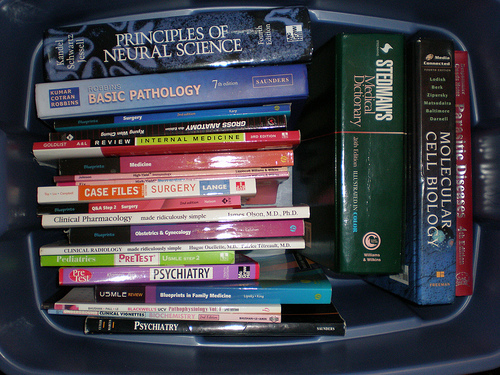 Photo by pmc cormi
It used to be that your only options were to try to snag one of the few copies of used books you might find at the bookstore or from a student who had already taken the class and was willing to sell their old textbook to you.  With the emergence of businesses that rent textbooks online, your chances of finding the textbooks you need are much better.  You are also less likely to have to add $300 to your debt for a textbook you'll only ever use once.
Below you will find a listing of sites where you can rent textbooks online.  They are in no particular order.  I encourage you to be a smart shopper and do some comparison shopping before you rent or buy anything.  Be sure to include shipping costs when you are figuring out who has the best deals.  (Sometimes buying the book online or from another student may actually be the best deal.)  And don't forget, if you do end up having to buy a textbook, many of sites that rent textbooks online will buy them from you when you're finished with them!
Whenever you rent online, be very careful to choose the correct edition of the book you need.  Using the ISBN in addition to the title is probably the safest way to avoid getting the wrong edition.
One final hint: many of these sites also have pages on Facebook.  Be sure to check those out first for special deals offered only to fans.