Let's face it, being in college does not always lend itself to healthy eating habits.  Late night study sessions, short breaks between classes and a million other things that eat up your time during the day can lead to missed meals and quick snacking on junk food.  Add in the study breaks that often include those less than healthy dorm snacks and you can see why it's so easy to put on the "Freshman 15".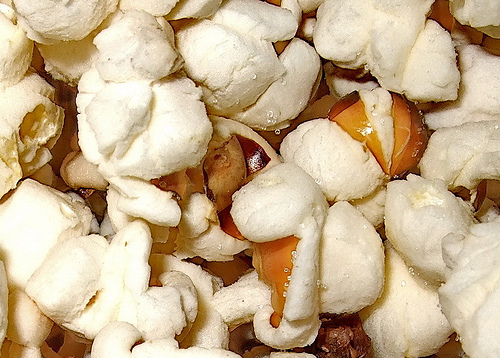 Photo by superiphi
The good news is that as Americans have become more conscious of what they eat, the number of healthy dorm snack options has increased dramatically.  Here are a few dorm snacks that are healthier options when you're in a hurry or just need a snack to keep you going.
Luna Bars/Clif Bars/Larabars- Any of these bars are a good thing to have on hand to grab when you know you're probably not going to have time for a balanced meal.  (Luna Bars are made especially to meet women's nutritional needs.)
Dr. MacDougall's Big Cup Soup Cups and Light Sugar Oatmeals - These are actually very tasty.  The soups have less sodium than most instant soups and the oatmeal is not quite as packed with sugar.  If you'd like a less expensive alternative to this particular oatmeal, you can always buy unsweetened oatmeal packets and sweeten it yourself with raisins or the sweetener of your choice
Newman's Own Organics - Pretzels - Pretzels are always a better alternative to fried chips, but these pretzels also taste good.  I highly recommend the salt and pepper variety.
Newman's Own Organics - Pop's Corn  - While the popcorn you pop yourself is probably the most healthy, this is a close, yummy second.  Whatever popcorn you choose, be sure to get the one with the least preservatives and additives. Instead of buying the kind that is butter "flavored", try using a little olive oil with some salt and pepper.
Fig Newmans - Need your cookie fix?  These are a healthier alternative with less sugar and organic ingredients.  They even have a fat free variety.
Baked chips - There are too many to name here, but baked chips are easy to find.  Whether you prefer tortilla chips or potato chips, your local grocery store is bound to have something that will satisfy your craving.
Smart Puffs - If you're really craving vending machine junk food, try having these dorm snacks on hand instead of the day glow orange variety. These are cheese puffs with fewer calories, fat, and salt.  You also won't leave orange fingerprints on everything you touch.
Goldfish crackers (original) - If you find yourself reaching for salty snacks that you just can't stop eating, these baked snacks are a must have in your dorm room.  (Keep them in a zippered plastic bag to keep them fresh.)
Almonds (unsalted) - A natural source of protein and fiber, these are a great dorm snack that is easy to carry with you to class.  Trader Joe's and Costco often have good prices on these for students who are watching their expenses.
If you have a refrigerator:
baby carrots, celery sticks
apples, pears, oranges
string cheese
low fat yogurt (Makes a great dip for your fruit!)
salsa (After all, you need something to dip those healthy baked chips into.)
cashew or almond butter (Delicious on celery sticks and a little better for you than peanut butter.)
Most of the name brand products listed above can be found at your local Whole Foods or Trader Joe's - both of which will offer even more healthy snack options.  The producst above can also be found in the natural foods section of many larger supermarkets.  Want to save some money?  Be sure to check the product and store websites for online coupons.
One last thing, remember that even a healthy snack can become unhealthy if you eat too much of it.