Yes, it's that time of year again: the big move to college. Boxes and bags are ready to be filled with your treasured belongings. But do you really need to take your stamp collection? Your scuba gear? Every pair of shoes you own? No. We will be revealing our college must haves list, but first and most importantly, let's discuss what NOT to bring to college.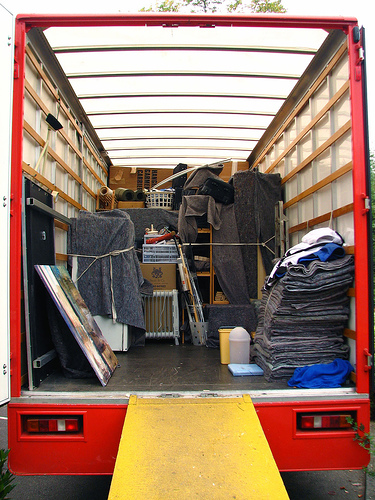 (Photo by Roo Reynolds.)
The following is a list of things you might want to leave at home when you head off to the dorms:
Clothes that don't fit you. Let's face it - the chances of you losing weight in college, especially in your Freshman year, are "slim" to none. (*nudge, nudge* Get it?) If that shirt you got in high school doesn't fit you now, do not let it take up precious space in your tiny suitcase, followed by precious space in your tiny closet.
Toiletries. Unless your college is located in the middle of the forest/desert/jungle/ocean/moon, you can buy toothpaste and shampoo wherever it is you are moving to.
Candles. Yes, they can make a depressingly dull dorm room more welcoming, but you probably won't be allowed to have them. Because people tend to drink in dorms. Candles + drunk college students = the smell of burning hair. And that is unpleasant.
More than three stuffed animals. Nothing says "I'm on my way to adulthood." like a Care Bear sitting on your pillow.
More than $50 in groceries. Snacks for your dorm room only, unless you're living in an apartment. And even then, you're liking going to be too busy celebrating your new-found freedom to actually find time to cook a meal. And rotten food is not so lovely.
More than four pairs of shoes. I know, ladies, this one is difficult. But you are sharing a space with another person. Be thoughtful about their need for space and (hopefully), they will be just as considerate. One pair of sneakers, one pair of dressy shoes should be all you need. But I like to be more realistic than that.
A Ming dynasty vase (or something equally priceless). Sadly, thefts can happen in dormitories and apartments, even if they have security guys on duty. Who knows, might even be someone you know. But it's something to keep in mind. Do you really want to risk it?
A butt-load of beer. There will be a time and place for that, my friend. Moving Day is not one.
Your baggage. No, not your luggage. Your luggage is your best friend. No, we mean that stigma you got in high school. Even if you were hot stuff in high school, chances are, things are going to be different here, so you can lose the attitude when you step on campus. Think of this as a fresh start. Try something new. Meet new people. Speaking of baggage…
Your main squeeze. I'm not suggesting you break up with your true love at the end of the summer, but try to keep things light. Don't plaster your dorm wall with photos of him/her, because your roommate won't find them as cute as you do. And don't you dare complain/cry to your new friends about how you can't stand being apart. Because your new friends will hate you.
Stay tuned for our college must haves list and check out these past posts: 25 College Must Haves or Packing for College: 25 Items NOT to Bring. Happy Packing!
* * *
Jillianne Hamilton is a multimedia student and graduate of the Journalism program at Holland College in Charlottetown. She is the creator of Kill Jill Goes to College, East Coast Overture and, most recently, PeaceOwl. Find out more about her at Jillianne-Hamilton.com.