I can't count how many times my high school teachers told me, "We're doing this to prepare you for college!" Of course, this phrase usually came after assigning a twelve-page paper, passing out an impossibly long test, or telling us another terrifying tale of frat parties gone awry. Although I'm honestly more than grateful for the help, I'm happy to say my first quarter at Seattle University has been a bit different from some of those expectations.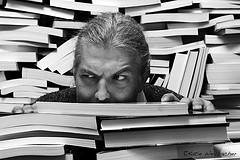 photo by Katie Weilbacher
What I expected: Drinking, drugs, and debauchery-and dull Friday nights for those of us who wanted no part.
What I got: While partying definitely happens and people are much more open about it than in high school, it's not too hard to avoid that scene. I have spent some of my favorite nights checking out local art and music or tossing a frisbee at midnight. Parties are there for those who want it, but at my school, I don't feel pressured. Find someone with similar interests or values to your own-and try to find them sooner rather than later.
What I expected: On-the-spot essays, just like my AP English class. Memorizing dates, just like in AP US History. Killer multiple choice, like every AP class I've ever taken.
What I got: There was so much more "busy work" in my AP classes than in any of my classes now. I "retook" the English composition class I tested out of, and while I did more work in the high school version, I've done more critical thinking in college. AP classes prepare you for tests and impart you with formulae, but they will never replace college-level discussions.
What I expected: A seat number instead of a name, math professors who teach in French, and absolutely no chance of getting above a C; college as a fearsome, loveless place.
What I got: My English professor occasionally sees me studying and asks what I'm up to, and most professors here check their e-mail more than students do. It does help to be at a smaller school. For some of my friends elsewhere, 400-person classes are indeed a reality, and getting to class can take some extra motivation. And A's are much harder to score than they were in high school, so get used to the idea of C's being average. But people really do want you to succeed. Every school has resources like tutoring, a writing center, or office hours, and professors actually are there to help.
What I expected: 50% of your grade: the final. The other 50%? The midterm.
What I got: Personally, I have weekly papers in English, several homework drills in Arabic, and three-not two-tests in Geology, not to mention a number of quizzes, projects and labs. It's helpful, albeit a bit annoying. This isn't the case for everyone, but just know that it's possible.
What I expected: Fifteen more pounds and a caffeine dependency.
What I got: In spite of the aforementioned homework load and the rich Seattle café scene, I'm still not a coffee drinker. Personally speaking, becoming responsible for my own meal choices has made me more conscious of my eating habits, and I think I actually eat better at college than at home.
What I expected: Friday night concert, Saturday afternoon protest, Sunday morning at the art museum followed by cuisine from a country I've never even heard of. During the week, I'll volunteer, take music lessons, and…
What I got: Honestly, besides the fact that I have no time for anything ever, this new and foreign environment still intimidates me a bit. To pull a line from Seattle's own Postal Service (I know, I know), "I am a visitor here. I am not permanent." Or am I? It's hard to really invest in a community when small talk still starts with asking the other person's hometown, and I'm still warming up. I think by next quarter it'll hit me that I spend more time at school than in Colorado, and now that I understand my schedule better, I'm going to commit to really taking advantage of the location.
My college experience, though, is only my experience. The important thing to remember is that not everyone is the same. You can make these four years fearsome and loveless as many had led me to believe, or you can make it the time of your life, as many others had told me too. As you prepare, look out for what variables will affect your own college story, and don't let the horror stories get to you.
College students: how do your expectations for college life stack up to your actual experiences? Leave a comment.