It's no secret that the cost of college tuition is sky-rocketing. Add the price of books, food, and other personal expenses, and you've pretty much dug yourself into a deep dark hole of debt. In the past 2 and half years at the University of Rhode Island, I've found some ways to lessen the load of college costs and break the typical "broke college kid" stereotype. Here's my top 5 tips for saving money at school: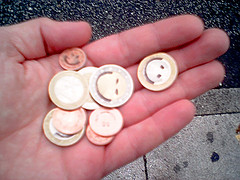 Photo by Material Boy 
 Amazon.com - Don't waste your time standing in line at your local bookstore. You can find the books you need for your classes right on Amazon or other online textbook sites and for wayyy cheaper! I've found books at my bookstore that will sell for almost $100 more than they do online! And if you have to buy the books from the bookstore, see if your school offers a "buy-back" program at the end of the semester. You will usually get up to half of what you paid for the book just in time to spend for the holiday season!
Get a campus job - There are a plenty of options to work around campus. Campus jobs are great because the people you work with are usually very lenient with your class schedule. It's also a great way to meet new people! At URI, I'm a tour guide and although I don't make very much money, it gets me through the week and I have a great time doing it.
Meal plans - Meal plans are a great way to get real value for your buck. Most schools have a buffet-style dining hall that allows you to eat as much as you want. This will save you from buying individual meals that can costs lots of money!
Use your campus gym - Get rid of that annual fee you back for the gym and utilize what your college has to offer. Most colleges allow students to use their gym for free. For the most part, you will find the same equipment and classes to take for no cost at all!
Public transportation - Cut down on gas by using public transportation. Usually free or for a small fee, this is a great way to get around the area without shelling out the cash to fill up your tank.
These are just a few ways that I cut down my spending. If you want some more advice, check out how my friends pay for college. For greater college savings, you may want to look into the following:
Financial Aid (Need help understand financial aid? click here)
Loans/Grants
Work-study programs
Saving money can be easy, you just have to be conscious of it! If you're still having problems, here's another 136 tips for keeping your cash! Happy Savings!