Textbooks are expensive. Everyone knows this. A recent survey stated that the average student pays between $700 and $1000 per year for textbooks. Paying hundreds of dollars for a single textbook is bad enough, but when a student has to buy several books, it adds a big chunk of money to pay- in addition to tuition, residence fees and other mounting costs. To save some money, students can buy used textbooks from other students and sometimes from the college's bookstore. However, the modern way of dealing with textbook prices is to head online. The following links will hopefully help you on your quest to save money.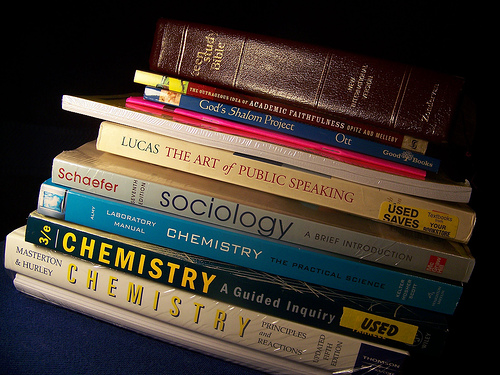 Photo by wohnai.
ValoreBooks.com. This is the number one place where students can buy textbooks and sell textbooks back! And, in the process, save trees!
Cheap Textbooks. Try this Super Cheap Textbook Search Engine ™ which will scour the internet for the cheapest price available on any textbook. If you can find a textbook cheaper online - they'll buy it for you.
Chegg. Chegg is a multi-purpose website and that's why I'm listing it first. Students can rent textbooks, buy their books, sell them back to the website and they plant a tree for every book you rent. With Chegg, you can save up to 80% on textbooks.
Abebooks. Search by title or enter up to ten textbook ISBNs and you'll see the lowest-priced textbooks for each ISBN. Add the bundle to your basket for quick checkout. You can start searching right here.

ISBN:


Author:
Title: Keyword:


BookRenter.com. Quick delivery, choose between five rental periods and free return shipping. Save up to 75%.
Textbooks.com. Boasts fast and free delivery on orders of $25+. You can even sell your books back for up to 50%.
Alibris. Offers new and used textbooks. Save up to 90%. Offers a very large selection and many hard-to-find titles.
CampusBooks. Offers students the option of searching by subject, in addition to searching by book. You can also sell your books back to the website when you're finished with them.
Half.com, eBay and Kijiji. eBay probably has more books to buy but Half.com specializes in books, textbooks, music, movies and video games. Search in your area for textbooks (and other stuff) on Kijiji.
BookSwim. "Rent books Netflix-style." Free delivery, free return postage and no due dates or late fees.
Facebook Marketplace. Log in, go to the Marketplace and type in the title of the book you're searching for. Shipping rates may be vary, depending on what the seller requests. There are also several textbook applications on Facebook that you might want to check out.
TextSwap. Buy, sell and trade used textbooks. Gives you the option of searching by university.
Bartleby. Free, online books. (Seriously, what's cheaper than a free book?!)
Cheap College Textbooks. Works like a search engine. Type in what book you're looking for and it searches several textbook websites for you, comparing prices and showing you the best deal.
These are just some of the many websites that offer discounted prices on college textbooks. Make sure to shop around for the best deal and read the fine print. Compare shipping prices and return shipping prices, if applicable.