Love movies? Do you dream of living in Hollywood? Perhaps you should consider a degree in making films. Sound interesting? Check out these facts: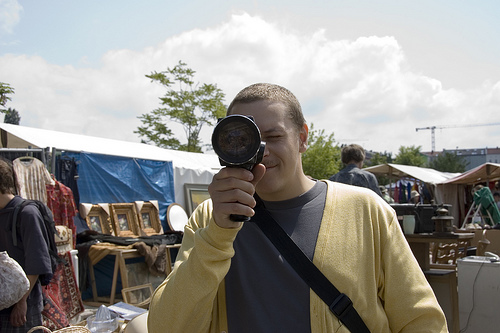 Photo by Stan Ravn 
What is a degree in making films?
A degree for making films allows you to participate in the production of feature films, filmed television programs, made-for-television movies, music videos, and commercials. A degree dealing with films also introduces you to postproduction services to the motion picture industry, such as editing, film and tape transfers, titling and subtitling, credits, closed captioning, computer-produced graphics, and animation and special effects.
What do people with a degree in making films do?
Making a movie can be a difficult, yet rewarding, experience. Although studios and other production companies are responsible for financing, producing, publicizing, and distributing a film or program, the actual making of the film often is done by hundreds of small businesses and independent contractors hired by the studios on an as-needed basis. People with degrees for making films can work for one of these companies, providing a wide range of services, such as equipment rental, lighting, special effects, set construction, and costume design, as well as much of the creative and technical talent that go into producing a film. A degree in making films also helps you to understand the large number of workers in other industries that supply support services to the crews while they are filming, such as truck drivers, caterers, electricians, and makeup artists.
Future prospects for those with a degree in making films:
Keen competition is expected for the more glamorous, high-paying jobs—writers, actors, producers, and directors—but better job prospects are expected for multimedia artists and animators and others skilled in digital filming and computer-generated imaging. Small or independent filmmakers may provide the best job prospects for beginners.  Wage and salary employment in the motion picture and video industries is projected to grow 11 percent between 2006 and 2016, about as fast as growth projected for wage and salary employment in all industries combined. Job growth will result from the explosive increase in demand for programming needed to fill the rising number of cable and satellite television channels, both in the United States and abroad. Also, more films will be needed to meet in-home demand for videos, DVDs, and films over the Internet.
Average salaries for someone with a degree in making films:
Earnings of workers in the motion picture and video industries vary, depending on education and experience, type of work, union affiliation, and duration of employment. In 2006, median weekly earnings of wage and salary workers in the motion picture and video industries were $593, compared with $568 for wage and salary workers in all industries combined. Unions are very important in this industry. Virtually all film production companies and television networks sign contracts with union locals that require the employment of workers according to union contracts.
What should you consider when thinking about a degree in making films?
Formal training can be a great asset to workers in filmmaking and television production. Individuals interested in production management who have a bachelor's or associate degree or 2 years of work experience may qualify for the Assistant Directors Training Program offered jointly by the Directors Guild of America and the Alliance of Motion Picture and Television Producers. Training is given in Los Angeles with the possibility of travel to other locations. To enroll in this highly competitive program, individuals must take a written exam and go through a series of assessments.
Source: Occupational Outlook Handbook, 2009 - http://www.bls.gov/oco/cg/cgs038.htm