Now that the majority of college application deadlines have come and gone, there are some students whose lights seem a bit brighter, and others, a bit more dim. So how do you make sure you are one of those bright students who beat the college application clock? Here are a few tips to help you make your college application deadlines.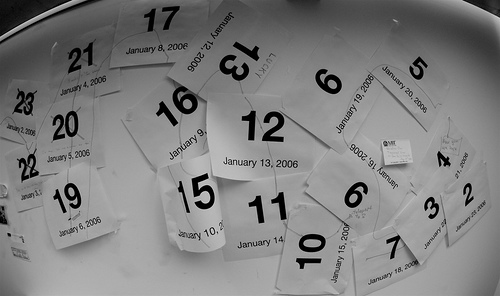 Photo by Wili Hybrid
Simply stated, time management is the key. The process for applicants must start well before senior year. In fact, it must start at least one year before senior year. You'll need to start at least a year ahead in order to figure out your testing timeline, to determine whether you'll take the ACT or SAT, and to register and prepare for these tests. As for the actual college applications themselves, these typically become available sometime in the summer (i.e. common app is going to be available August 1st this year), but this is still plenty of time to fill in the necessary bubbles. Here's my typical checklist to help students hit their college application deadlines:
Get started on your SAT and ACT testing by January of your junior year. Take them each at least once, preferably twice before senior year.
Begin planning for your college essay topics. Start thinking about life experiences that have shaped you. Remember: something well-written is your best opportunity for a good impression. Good writing takes time . . . and thought.
Gather your two academic recommendations. Make sure they're teachers in different subjects. More importantly, try to ask two teachers who know you well, NOT necessarily the teachers whose classes you did well in (although this would be a great plus).
Identify a safe, financially-viable university that you will be happy with if other options do not come through (look at in-state, public institutions).
Create a resume of activities. You don't need to elaborate on each. Just identify what the core purpose and benefit of each extracurricular has been.
Get your transcript requests in early. Remember, your senior year grades are not put on the transcripts anyhow, so you may get them as soon as your final junior year grades are entered.
Make a college visit or two if you're able. Don't overshoot your expectations and hopes. Be reasonable and practical. This means do your RESEARCH and ask a lot of questions.
Remember, the college application deadlines are set up for you to be successful. If you submit something that is anything other than your best work, there are no second chances. This may be one's first true lesson in accountability. If you have any questions, you can always contact me, [email protected].