Ever since Al Gore made An Inconvenient Truth, "going green" has been the topic of discussion. It's sad that a film had to be the one thing to make us see that our planet isn't disposable, but nevertheless, some colleges and universities are finally jumping on the green wagon to offer green degrees for students looking to make a difference environmentally and globally.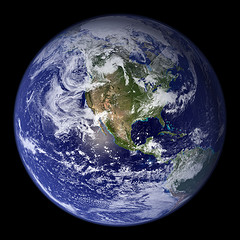 As more companies search for ways to reduce their energy costs and become more sustainable, the demand for green collar jobs is increasing rapidly. Some green jobs like consulting are growing especially quickly—at double-digit rates in some specialties. According to this Newsweek article, recent U.S. Department of Labor figures indicate that environmental engineers, hydrologists, environmental-health scientists and urban and regional planners are in the highest demand.
The green economy presents many opportunities for students. The following is a list of just a few degree programs to help you capatalize on this trend:
Wind Energy Technology is a program currently offered at the Lakeshore campus of Wisconsin's Technical Colleges. It is a two year program and would be best for anyone interested in mechanics or machinery as well as sustainable energy. There is currently a high demand for wind turbine technicians and mechanics. How about running your own wind turbine farm? (Click here for more information about this program.)
Sustainable design is an environmental term that mainly refers to architecture and landscaping. Most buildings are now designed differently than they were twenty years ago. Boston Architectural Design has a Sustainable Design program that teaches students about sustainable building techniques. (Click here for more information about this program.)
Some tourists are now looking for a green way to travel. Thus, Ecotourism was born. For those who love to travel and be outdoors, this could be a great green option. There is a 100 hour program available at the Ecotourism Institute at the Tallahassee Community College in Florida. (Click here for more information about this program.)
If you always thought you'd like to be a lawyer but wanted to help the environment too, now you can do both. Environmental and Natural Resources Law is offered at the Lewis & Clark Law College in Portland, Oregan. (Click here for more information about this program.)
Green thumbs just got a little greener. Organic Agriculture Systems is a program offered through the College of Agricultural, Human, and Natural Resource Sciences at Washington State University. Students taking Organic Agriculture Systems can graduate with a Bachelor of Science in Agricultural and Food Sciences, with a major in Organic Agriculture Systems. (Click here for more information about this program.)
For more information on green careers, visit EnvironmentalPrograms.net, Green Career Tracks and Green Career Central.