In order to take full advantage of the benefits your military service has provided you, you should leave no stone unturned. Fully investigate every benefit available to you and how best to use them.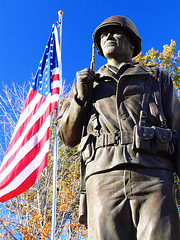 Veteran photo by Brent and Marilyn
Options, Options, Options
Education is one very important veteran benefit that you've earned. Education is crucial to reaching both career and personal goals, so you'll want to use your benefits to the fullest. You should be aware that you may be eligible for more than one educational benefit. For instance, in addition to what the GI Bill provides, you may also qualify for scholarships and other college funds through state, federal, and private means. You may even be able to apply employer tuition reimbursement benefits along with your government benefits to pay for college. It will take some time and effort on your part to research how to use all the benefits available to you, but with the money you'll save on your education and the opportunities you'll be able to access after graduation, you'll be happy you took the time to investigate! 
Choosing a School
One place to start is to find a college that suits you, preferably one that is military-friendly. You may know of other veterans who have attended the college you are interested in. Find out about their college experience. Investigate whether the school has programs and scholarships available to veterans and how much the scholarships cover. There may also be scholarships you qualify for which aren't related to your military service. Whatever you find, scholarship money can certainly help steer you toward a college.
Grants and Scholarships in Addition to the GI Bill
Since college is expensive and the GI Bill may not meet the actual cost of your education, you should also see if you are eligible for grants. Unlike a loan, you do not have to repay grants or scholarships. Grants are awarded on the basis of financial need and scholarships are awarded for academic and other achievements. The Pell Grant is available to low-income college students, and students who have the GI Bill should apply for such kinds of financial aid without including GI Bill benefits as income.
What to Consider When Taking a Loan
If you can not secure a scholarship or grant, there are many loans out there to consider. Loans can be accessed through the federal government, state government, banks, or private lenders. Remember, a loan will affect your financial state in the future. Be sure to choose one that fits with your ability to pay based on your future career and salary. The point of getting your degree is to secure a desired career and lifestyle. If you are strapped with exorbitant debt, you may significantly postpone enjoying your achievements.
Funding Your Education Now
Finally, do not rule out getting a job to pay for your extra college costs. Not only will you avoid finding a pot of debt at the end of the rainbow, but you'll be getting valuable experience to list on your resume, which will give you a competitive advantage when searching for a job.
Resources
When it comes to education benefits or any veteran benefits, make sure you are fully informed. The following links will help guide you:
http://www.military.com/money-for-school/veteran/veteran-education-benefits-users-guide  
http://www.veteransfund.org/did_you_know