The politics of it all can be awfully muddy, but the question at hand is whether college affordability will come back down to Planet Earth during the Obama years.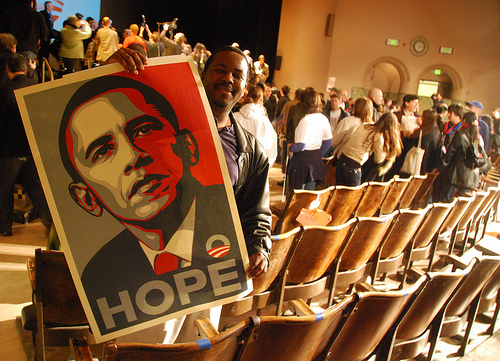 Photo by Steve Rhodes 
Some people adhere to the old adage, "you get what you pay for". In this case, I can tell you a few rules of thumb to remember:
The actual cost of a college education is much greater than what the tuition bill is. At most universities with a price tag of, let's say, $40,000 per year, the actual cost of educating, developing, nurturing, feeding and housing a student runs closer to probably $60-$70,000. The rest of this is subsidized through fundraising and university treasuries. So we can never forget that all of those amenities that parents ask about on the campus tours and some that are just mandatory to create a safe and comfortable learning environment (i.e. recreation facility; workout rooms; new dining halls; smart classrooms; secure facilities, etc . . .) are not cheap.
The President seems to be veering away from former President Bush's policies of NCLB (No Child Left Behind) which, in essence, stated that a 4 year university degree was suited for every blue-blooded American. Obama seems to have a more practical and tempered attitude that holds trade workers and community colleges as extremely important (and independent) pillars of our system. That is a good thing for two reasons. First, we need to stop overcrowding and over-committing ourselves to an idea that says 'university is the only solution' and secondly, because enrollment and admissions statistics at some point or another have to plateau, right? In other words, kids should be able to get into the schools where they are well-qualified to do the work.
I believe that with the other major issues on the plate of the President, education, as always, is taking a bit of a back seat for now.
That being said, Arne Duncan, the current Education Secretary and a fervent reformer, sees the troubles in the system and has really begun to seek advice (and he seems to actually be listening) from all the productive corners of the education sector. So, perhaps, with one year into this administration, there is that Hope for Change yet.
Will school get cheaper? No. Access must get easier. We see what happens in states that give higher education away for cheap (i.e. California and Florida). The system becomes too crowded; four years turns into five, sometimes six or seven; the overall quality of what every student gets just decreases; and at the same time, costs at these institutions still continue to rise.
It is as if there is no way around the fact that the cost of education will continue to increase as the expectations and the value of degrees also increases. But what is the value of a college degree?
We shall save that question for a later post. For now, let's cross our fingers and toes and hope that the President's understanding and appreciation for his own university degrees and experiences might play a role in his administration creating greater access and less financial burden for all of those who need and want it. Until next time, thanks for reading!