People don't just go to Ivy League schools for the architecture. After spending about two weeks at Yale, I am beginning to realize why I'm here: infinite opportunity. I had my share of anxiety this summer, wondering if I would fit in at Yale, wondering if Yale would be all they say it is. Is the Ivy League all I'd expected? The truth is: it is and it isn't.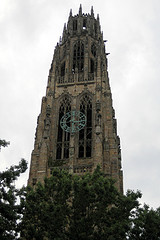 Academics: College students have one responsibility: to learn. I came to Yale expecting a world-class education, hoping to fill my mind up with some of the best theories and facts academia has to offer (while learning to think for myself, of course). I was disappointed when I couldn't get into a digital photography class or a seminar on ethics and the media and instead ended up in two lecture classes. This hasn't happened to my friends who are at liberal arts colleges, like Amherst or Colorado College. But my professors are leaders in their field, lecturing with the background of their own research. I'm learning from primary sources.
Extracurriculars: One of my suitemates said that Yale is like an all you can eat buffet: It offers everything you could possibly want, but you can only eat so much before you get sick. This is true for academics and extracurriculars. So far, I've made it into an improv comedy group and written a movie review for the Yale Daily News. One of my suitemates is in the Yale Glee Club and another was voted in as a representative for Freshman Class Council. I imagined anything would be possible here, but I failed to realize there wouldn't be time to do it all.
Social Scene: I knew there would be parties at Yale, but I had no idea they would be such a big part of the social scene. On any Thursday, Friday or Saturday night many people drink the night away at a frat or suite party. Others go to dance parties or other organized on-campus events. Remember the buffet analogy? It applies to the social scene as well. I should've known that a group of highly motivated, active students would always be looking for something to do, in academics and entertainment. I'm disappointed that people don't just want to hang out, talk, get to know each other and let the day (or night) take them where it will. In the Ivy League, it seems there must always be a plan.
People: Before I decided where to go to college, people told me to go to Yale "for the people." It's become a cliché, but not without reason. I was afraid Yale would be full of polo-wearing, affluent legacies and while I have met a few people who could fit this stereotype, the people at Yale are so much more than that. People come from all backgrounds and geographical areas. This isn't just something they market through brochures. It's actually true.  I came here hoping to find intellectual conversation outside of the classroom and, while not all conversations revolve around Plato or neuroscience or current events, I haven't been disappointed.
Some people work their entire lives to get into the Ivy League. I was talking about this with one of my suitemates who spent hours every day during her summers studying for the SAT. She could've been out with her friends. She could've been learning something that holds value beyond the world of standardized testing. Is it worth it? Ask us in four years. For now, I will say that college, Ivy League or state school, is what you make of it. I'd love to hear if other people's college experiences have met their expectations. Leave me a comment.