Martin Luther King Day: Monday, January 19, 2009.  It is one of only three federal holidays in which the United States celebrates an individual person. In the past, minority access to higher education has been a controversial, or rather taboo, topic, but not today. I'd like to share the contents of this post to praise the advancements that the US has made in raising minority numbers in colleges and universities around the country and to look back and see how far we've come from the days of MLK.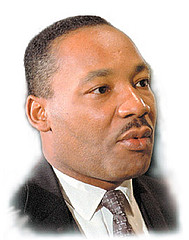 As a student at the University of Rhode Island, I can see that my campus is a place where equal opportunities are given to all students. URI offers a Talent Development program whose mission statement reads as "Since 1968, The Talent Development Program (TD) at the University of Rhode Island continues to recruit, support, and retain students of color and disadvantaged students from Rhode Island."
According to Noga Admon's Minority Access to Higher Education and its Social Outcomes, "The gap in college participation between whites and minorities was 13% in the 60′s, narrowed in the 70′s, and widened again in the 80′s." It's 2009 and the number of minority attendance in higher education is increasing by leaps and bounds. In this post, I want to share some stories of universities around the the US that need to be commended for their efforts in raising access to their schools.
William and Mary
According to the New York Times' Success Strategies for Minorities article by Joseph Burger, "85 percent of blacks graduate within five years - about the same rate as white students and, the school contends, twice the national average for black students. It has slowly increased its number of blacks since 1978 from 115, or 2.6 percent of total enrollment, to 260, or 5.1 percent, in 1987, with Asians, Hispanics and American Indians bringing the total minority population to 8.9 percent. Of September enrollees, 102 freshmen, or 6 percent, are black."
Loyola University New Orleans
This university "was recently recognized as one committed to diversity by Minority Access, Inc. during its ninth National Role Model Conference in Arlington, Va.", according to a press release issued on October 13, 2008. "The university received the Minority Access Role Model Award because of its programs and activities that enhance and promote an environment of inclusion on its campus. For the past two years, approximately 36 percent of Loyola's freshman class has been comprised of minority students. In addition, about 30 percent of incoming freshman this year are first-generation students."
Bellevue Community College
Bellevue Community College was named one of the "Nation's Leading Colleges and Universities Committed to Diversity" by Minority Access, Inc.   BCC's mission is to simply "honor and publicize inspirational role models."
For more information about minority access to education, employment and research, please visit Minority Access, Inc which is a non-profit educational organization that supports individuals, academic institutions, federal, state, and local government agencies, and various corporations to diversify campuses and work sites by improving the recruitment, retention and enhancement of minorities.
Happy Martin Luther King Day! 
Thanks for visiting. If you're new here, you may want to subscribe to our RSS feed.