I always dreamed of college as a place where your ideas are questioned every day and where social change just bubbles to the surface. When we hit campus this fall, many of my friends and I organized, rallied, or voted for the first time, and finally in November we witnessed the historic election of Barack Obama. Although so many other topics were at the forefront of the campaign, the new President will have to face a number of issues that affect college and college-bound students. As we look forward on the day after the inauguration, here's a look at a few of the new administration's ideas and goals for improving higher education.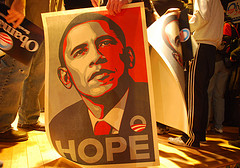 Make college more affordable - With the economy low and tuition high, college affordability is an issue now more than ever. Obama's proposals on college include simplifying financial aid applications, expanding Pell Grants, and introducing a $4000 tax refund in exchange for 100 hours of community service per year. Another controversial proposal is eliminating the Federal Family Education Loan Program (which includes Stafford, PLUS, and Consolidation Loans). Unlike the Direct Loan Program, the FFEL Program is privately funded, making their interest rates higher. Funding for the FFEL Program would then be shifted to expanding financial aid.
Prepare more students for college - In the Senate, Obama has worked on a proposal to provide grants for high school students looking to get credit at community colleges, and the new administration aims to increase the percentage of high schoolers taking AP, IB, and other college-level classes. The new administration also intends to fund expansion of Early Assessment Programs, optional tests to see if high school juniors are college-ready. If the new $4000 tax refund is approved, recipient students could earn their community service hours by mentoring high schoolers in approved college-readiness programs. 
Promote community colleges - A major goal of the new administration is to expand and improve community college. One piece in the agenda is to provide more grants to community colleges so that they can better research and address what job skills and education are in high demand. The plan would also reward community colleges that graduate more students or transfer more students to four-year colleges.
Of course, the new President can claim as many ideas as he wants, but how many of them will turn into action? Which ones should turn into action? Leave us a comment with your thoughts. Then, voice your opinion at Change.gov, the Office of the President's new web site, and make sure that higher education is a priority for the next four years.
And……….. if you really want to see change in this country, get educated! Choose a major that will help you invoke change or consider going back to school to get a degree to improve this great country. There are tons of options out there. And of course (shameless plug), don't forget to find your college match at myUsearch. 
Thanks for visiting. If you're new here, you may want to subscribe to our RSS feed.