Today's post is from our newest guest blogger, Sara Fowler, and admissions insider from Colorado Mountain College.  
I grew up in the mountains of Colorado, in a town that draws crowds year-round for pretty much any outdoor activity you can imagine – tourists came to ski, hike, kayak and bike in my backyard.
I worked, like most of my friends, in the coffee houses, restaurants and shops in Glenwood Springs throughout high school. And when I talked to visitors in our area, they often mentioned that they wished they could live their outdoor vacation lifestyle forever. I guess no one ever told them they could.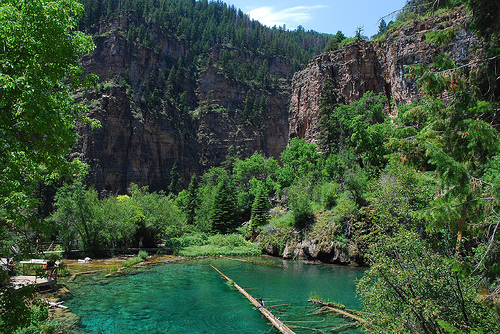 Picture of Hanging Lake, Colorado by Rob Lee
Fast forward about eight years, and I'm back in Glenwood, working for Colorado Mountain College. Two of our residential campuses (Spring Valley in Glenwood Springs and Timberline Campus in Leadville) host a couple of our flagship programs, Outdoor Recreation Leadership and Outdoor Education. It's hard to imagine an environment more suited to learning how to pursue a career in the outdoors: more than 25 million visitors come to Colorado every year, and outdoor trips are now the most popular type of vacation within the state.
And these visitors need experts skilled in all the elements of outdoor travel.
College graduates skilled in outdoor education and outdoor recreation can enter a variety of outdoor-related career tracks:
• Outdoor and mountaineering retail environments
• Resort recreation
• Military or community recreation
• Positions with federal agencies
• Private guide services
• Adventure travel agencies
• Nature centers
• Summer camps
It's no secret that the economy has affected tourism. But for the outdoor education industry, this can almost be seen as good fortune.
With more people staying close to home, many vacationers are getting a chance to explore their backyards and venture outdoors. From the salesperson at the local mountaineering store to the guide who knows the best fishing spots, travelers depend on outdoors experts for safe and well-informed adventures.
With increased interest in "green" travel and vacations, adventure and eco-travel are growth areas. Outdoors experts trained in "leave no trace" travel are in demand in many tourism industries.
Our graduates have done some amazing things – we recently received an email from a former student who has landed an outdoor enthusiast's dream job as an Instructor Intern position with the National Outdoor Leadership School (NOLS). Another worked for a non-profit organization teaching environmental education, outdoor skills and team building. Others have worked for the Colorado State and US Forest Services.
But what will school be like?
Outdoors students are often successful because they have found a program of study that taps into their passions. Though most outdoor degree programs require basic college coursework, this isn't your typical college experience.
You'll work on skills that will make you successful in a career that you've dreamed of all your life – teambuilding, environmental awareness and first aid skills will just enhance the activities you already love. You might even enjoy your coursework. Shock!
So what should you look for in an outdoors degree program?
Kent Clement, PhD, director of CMC's Outdoor Recreation Leadership program at Timberline Campus, says hands-on experience is key.
"Experts say education should have ties to real-world issues, and our program takes learning into the real world so students can test their skills and knowledge in very real situations," he said. "In some programs, students are taken out to do a lab or two in the field. Our program takes students into the wilderness for extended periods where they can practice what they have learned in the classroom with no ambiguity. If you don't light your stove, you don't eat. If you don't make your snow shelter, you are exposed to the fury of the winter cold."
Try to find a program where you can experience a variety of different outdoors situations on extended trips to the field. At CMC, students participate in a number of wilderness trips, including mountain, river, desert, canyon and snow orientations where their classroom learning is put to the test. Watch desert and river orientation videos here.
Also look for programs that:
• Offer specific training and certification opportunities such as avalanche safety, outdoor emergency care and swiftwater rescue.
• Have small class sizes that will allow you to interact with your instructors.
• Are taught by professors who have ample experience in the field, as well as in the classroom.
• Offer a full range of high-quality core courses.
• Will challenge you to embark on new experiences such as sea kayaking, ice climbing, telemark skiing or flyfishing.