Everyone says you have to see it to believe it. Yet…how can I picture myself at a school if I don't have the opportunity to take a campus tour to really get the "feel" of the campus?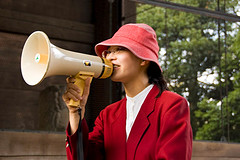 Thanks to the interactivity of the Internet, you can get a great view of a potential college with a few clicks.
Individual College Websites:  

Most college websites now have pictures of the campus as well as college amenities like the recreation center, dorm dining halls and library. Many colleges even feature campus tour videos right on their website or have their own virtual visitor page. If your college of choice doesn't offer this, you can also try..

Third-Party College Sites: 

Many college search and college matching sites like our favorite, myUsearch.com, offer videos showcasing their featured colleges. For the best sites to take a virtual campus tour, check out this post about the best sites for college videos.

Images/Maps:
Extra Info

Look up travel information and advice about activities to do in the surrounding town. What do people do for fun? What do locals or experts recommend tourists experience? An interesting site for finding book and Web resources about every city in the U.S. is Clickcity.

Weather

Don't forget to check out the weather patterns during the year. What is the average snowfall? When do fall and spring usually come? Intellicast has tons of climate information.

Talk to Admissions

Email the admissions office to get in touch with a few current students or professors who are studying or teaching subjects you're interested in. Don't be afraid to ask them questions!
And, don't forget that myUsearch now features college videos for many of their matching colleges. So, complete the myUsearch questionnaire to find the right school for you.
Do you have any other ideas? Leave a comment. Happy trails! 
Thanks for visiting. If you're new here, you may want to subscribe to our RSS feed.