It's not too late to add one more New Year's resolution to your list — to avoid senioritis. Like many other high school seniors, you probably feel like you've earned a semester to take it easy, save your homework for the last minute, and spend a little more time in front of the television. Wrong. The fact is, you're still a student. You should take advantage of your last semester by continuing to challenge yourself and staying active in extracurriculars. You owe it to yourself to finish high school with a bang. And a case of senioritis can have significant consequences. Read on to find out how to avoid senioritis and why it's important.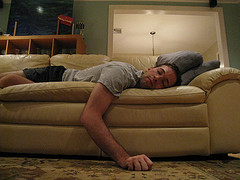 Photo by Darkumber
 
If you've already gotten into college, it doesn't mean grades don't matter anymore. Many schools offer scholarships to students only after reviewing spring semester grades. This means your grades this term could be more important than ever. Keep that GPA up if you want to earn merit money for college.
Slacking off senior year can also hurt your college performance. Don't get into a routine of procrastination and only doing the bare minimum amount of work required of you. These bad habits can stay with you in college. College is tough. Think of these last few months of high school as your last chance to prepare for it.
In some cases, senioritis can lead to having your college admission rescinded. Most schools add a subtle warning to their acceptance letters, stating that admission is contingent on continued performance in high school. This New York Times article talks about several students who didn't take their last semester seriously enough. I think you can guess what happened.
There are a few things you can do to steer clear of senioritis.
Continue your scholarship search. Keep sending in those scholarship applications and you'll keep busy while reminding yourself why you've worked so hard in high school. Having a difficult time finding scholarships? Check out these tips.
Don't give up extracurriculars. This is your last chance to make an impact in your school or community.
Don't drop those tough classes.  By challenging yourself, you'll continue to stay interested in school. This is also your last chance to learn certain material before college. Keep in mind that placement in many college courses depends on your AP exam scores.
Remember, you can never go back to high school. You may feel ready to move on right now, but I can guarantee you'll look back in the next year and miss high school.
If you have any other tips for avoiding senioritis, leave a comment.
Thanks for visiting. If you're new here, you may want to subscribe to our RSS feed.