When choosing a college, most people consider the college's location, academic performance, admissions standards, etc., but what about the college's study abroad programs? As our world grows increasingly global, study abroad programs are becoming more popular and important every day, but how should study abroad programs affect your college choice? To find out, I interviewed Dana Davies, Vice President of Enrollment for Arcadia University, ranked #1 in the nation for the percentage of students who study abroad.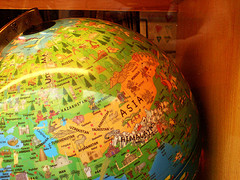 Photo by atomicShed

Dana had some great insight on what students should consider when choosing a college:
Studying abroad is important. To effectively compete in today's global market, Davies couldn't stress the importance of study abroad enough. Many employers now look for students who understand cultural complexities and can show signs of maturity. Studying abroad is a great way to prove you have what it takes.
Understand how important studying abroad is to you. Studying abroad isn't for everyone. Being away from your family and all of the comforts of home is very difficult and it takes a great deal of maturity to make an experience abroad a good one. It is important for students to determine how important studying abroad is to them and to understand their motives for doing it. Before you discard any colleges, make sure it's really something you want to do.   
Find out which locations are available. This might sound like a no brainer, but if you took German in high school and want to study abroad in Germany, make sure your college choice has a program there.
Decide what kind of an experience you're looking for. Do you want to take classes in English or a foreign language? Do you want to go to class with other Americans or do you want to be completely immersed in the culture? Do you want to stay with a host family or live on your own? Are internships or service learning opportunities important? Decide what's best for you and make sure the programs offered by your college of choice have what you're looking for.
Determine how much overseas support you will need. Some students have no problem traveling half way across the world one their own, while others need a little support and an easy way to stay in contact. Be honest about the level of support you'll need and find out whether your college of choice offers on-site representatives from your home college or other ways to stay connected.
Don't forget about the logistics. Make sure you understand the true cost of studying abroad. Will your financial aid and scholarships continue to cover your tuition when you study abroad? Will your credits transfer easily? Are there any important classes or requirements that you'll miss by going? Forgetting these little issues can have big consequences. 
If studying abroad is important to you, make sure you ask these questions when you make your college decision. And of course….tell us what you think. Will study abroad programs affect your college choice? Is there anything else students should consider when choosing a college? Leave a comment.