As a college freshman, I'll be experiencing my first year forking out my own hard-earned cash for taxis from the airport to campus, textbooks, concert tickets, bottles of aspirin, those really colorful curtains I want for my dorm room and everything in between. I admit it: I'm really bad at saving money and am an impulsive buyer, but this all about to change (I hope). Here are a few ideas I have to stretch my college budget from August to May.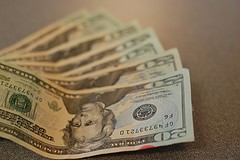 My guess is that before orientation week is even over, alternatives to dining hall food are going to start looking irresistibly tasty. Fortunately, you don't have to spend $15 at a restaurant to get away from the dining hall. I plan to attend art openings, lectures, and student organization recruitments to score some free food. These types of events often provide some kind of cuisine, from pizza to caviar, to lure people in. And hey, I might even learn something, meet people and get to know my campus while I'm chowing down.
As much as I'd like to see one of my favorite bands play each weekend, it's really not in my budget. Instead of looking for entertainment off campus, I plan to be active on campus in student organizations and clubs. If I'm busy having fun contributing to the campus newspaper or helping with theater productions I probably won't have the time (or the desire) to spend $30 on a concert ticket. Play sports. Join clubs. There's plenty of free entertainment on campus. Be active.
I plan to be a careful shopper. It helps to make lists of items I absolutely need to buy and stick to them instead of buying impulse items at the store. No, you don't really need that $2 bottle of hand sanitizer and a pack of gum. I also plan to buy generic brand products. Walgreens brand body lotion works just fine and saves me at least $3.
I will definitely have to spend a good chunk of money on textbooks at the beginning of each semester. But it doesn't have to be unbearable. I plan to buy used textbooks online. Here is some advice on buying textbooks.
Finally, I plan to have a part time job during the school year. Here are a few ways to make money while in college.
If you have any other money saving and stretching tips for me, leave a comment. I would love to hear your ideas!