Today bloggers everywhere have been asked to speak out for human rightsfor Bloggers Unite Day. I have decided to speak out about something I feel very strongly about — Guantanamo — and encourage all of you students to drop your beer (or other recreational drug of choice) and join me.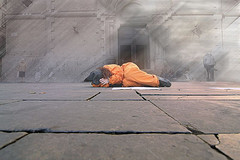 As college students, you are much more influential than you probably realize. It is easy for you to mobilize your friends, you have a lot of time on your hands and your bright-eyed idealism hasn't been squashed by the cruel, hard world. Today, in honor of Bloggers Unite, I'd like to ask for your help. If you are like me and believe torture is illegal and un-American, here are just a few things you can do:
Sign Amnesty International's pledge to Tear It Down
Donate to an organization fighting against torture such as Amnesty International, The ACLU , or Witness Torture
Educate Yourself. Download this fact sheet or surf the web.
Write to your Congressman.
Buy a sweatshop-free anti-Guantanamo T-Shirt
Send detainees a letter to show your support
Send detainees Seeds of Hope. (Many detainees have been secretly gardening) 
Share this post with your friends!
My personal favorite: build and display your own Guantanamo cage.
Organize a peaceful protest, but make sure its tasteful. If you are too antagonizing, you can end up doing more harm than good. The World Can't Wait has documented several student protests and this video is also a good example:

So, I beg of you, whether you join me to fight against Guantanamo or fight for your own cause, just do something. Your influence is a terrible thing to waste.     
Thanks for visiting. If you're new here, you may want to subscribe to our RSS feed.