It's hard to believe that a year ago I was getting ready to leave for college. In many ways, it seems like years ago and I can't imagine not having the friends I've met in the past year. I can't even imagine having a curfew! I spent my summer before college working eight hours a day, seven days a week, and even though it left little time for summertime escapades, I was happy to keep busy and even happier not to have to work during the school year. This may not be the best way for every incoming freshman to spend his or her summer, but looking back, I recommend a couple things everyone should do the summer before they start college.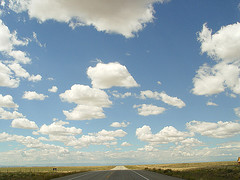 Summer outside my hometown in Alamosa, Colorado by teepoole

I worked a lot the summer before I started college. I worked full-time as a reporter for my local newspaper during weekdays and on weekends I waitressed at a pizza place. Because I had two jobs, I was able to save all of the money I made as a reporter while having plenty of summer spending money from my waitressing tips. I didn't have to juggle work and school during my first year of college because of my summer savings, and this helped me adjust to college life.
It was hard enough for me to balance English essays, architecture reading, deadlines for my school's student newspaper and improv comedy rehearsals. I can't imagine working part-time on top of all of that. Though I plan to get a job next year, I'd recommend focusing on school during freshman year.
Between jobs I somehow managed to spend a lot of time with friends and family. However, I wish that I would have had more time to explore my home state. I'm from Colorado, and as soon as I set foot on my college campus on the East Coast, I realized how much I missed the mountains. Growing up between the San Juan and the Sangre de Cristo mountain ranges, I took the Rockies for granted, and if I could go back to my summer before college, I would get a few fourteeners under my belt. Before you leave for college, especially if you are going out-of-state, explore your home area. You won't see it for a while.
How do you plan to spend your summer before college? Let me know by leaving a comment.