You applied, you got in, you packed your car and you're all ready to go off to college. But what about tuition? What about books? And you can't forget room and board. You've sent in your FAFSA form and received a small scholarship, but it still seems like the college price tag might be more than you can bargained for. Where do you go from here?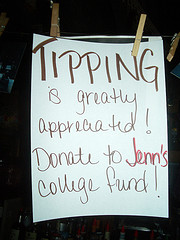 College Fund photo by djukami
7 unconventional ways to help lessen the cost of college expenses
FREE Tuition: Universities across the country offer tuition-free programs to eligible students.
Pay monthly: Many schools offer tuition management programs that help students spread out their payments into small sums throughout the year
Start early: By taking advanced placement (AP)  courses in high school, a student can walk into a university with credits fulfilled, saving big bucks in the end
Lock in Tuition: Lucy Lazarony suggests looking for a college tuition that won't go up as you grow up. "Colleges with locked-in tuition programs include Anna Maria College in Paxton, Mass.; Baylor University in Waco, Texas; Centenary College of Louisiana in Shreveport, La.; Concordia University in River Forest, Ill.; Hardin-Simmons University in Abilene, Texas; Huntington College in Huntington, Ind.; Urbana University in Urbana, Ohio; the University of Charleston in Charleston, W.Va.; and New York's Pace University."
Loyalty Programs: Programs like Upromise and BabyMint help pay for college through everyday spending
Community Service: Joining AmeriCorp or becoming a community service volunteer can help pay off some of your college expenses with each year of service
Be a Transfer Student: Start out at a smaller, more affordable university then transfer to a bigger, more expensive school. Just be sure that the credits will transfer over to your new school.
You can always find a part-time job while taking classes, or check out how my friends pay for college. Also- look into financial aid, loans, grants and scholarships to help you along the way. If none of that works, you can always live off of Ramen Noodles and wear the same pair of jeans everyday- I swear no one will notice!